Corendon Airlines was formed in 2005 and is part of Corendon Tourism group. The airline carries 6 million passengers a year through its tourist flights from Europe to popular holiday destinations. They fly to 65 Countries, from 165 airports worldwide, employing 1000 people globally and was ranked 4th in the classification of cleanest Global airlines*.
Corendon Airlines Destinations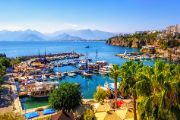 Corendon Airlines Glasgow Airport
Airport Services and Facilities
Check out the services and facilities available at Glasgow Airport before your Corendon Airlines flight
Learn More
Book Airport Parking
Book your airport parking online in advance to save both time and money before your Corendon Airlines flight
Book Now
Coronavirus Testing
Book your Rapid Antigen or PCR Test online before your Corendon Airlines flight
Cabin Baggage
Corendon Airlines Baggage Allowances
Each passenger is allowed to take only one hand baggage other than their personal items into their flight. The maximum weight of the hand baggage shall be 8 kilograms and its sizes shall be 55x40x25cm.
Learn More
Need to get in touch with Corendon Airlines?
Contact Corendon Airlines
Contact: +44 20 349 906 42
International Code: XC
Departs From: Terminal 1