Skip past the queues and start shopping and relaxing sooner before your flight. With priority security, there'll be no more waiting around – straight through to Duty Free you go.
Grab your speedy security experience for only £5.99 and have more time to relax before your flight. The security measures here at Glasgow Airport are in place for your safety, and by following the priority security signs, you shouldn't have any problems. If you do have any questions, please ask our friendly security staff who will be happy to help. Passengers under the age of 3 years old, when accompanied by a paying adult, can go through priority security free of charge. 
Security Preparation
To help speed things up even more, it's always a good idea to arrive at the airport prepared for security screenings. Please double-check in advance what you can and cannot take in your hand luggage.
Have all of your liquids sorted out before you leave for the airport. If you don't have a one-litre resealable bag to hand, you can pick one up for FREE at the security station. By being prepared, you'll help the security processes to operate much more smoothly – giving everyone extra time to relax and enjoy their journeys.
Please note: According to CCA/DFT guidance, Spicebomb by Viktor & Rolf is no longer permitted through security until further notice.
Click here to find out more about cabin-baggage liquid restrictions and what else you can do to get through security faster.
Security Scanners
In line with new technology and legislations, new security (body) scanners were deployed across all security lanes within Glasgow Airport from 20th December 2016.
We know going through security-checks can be daunting to those who don't travel often, but we can assure you that the security scanners we use are completely safe. The UK government concluded that the use of this type of equipment does not pose any risk to health. The scanning equipment does not produce x-rays, nor does it emit ionising radiation.
Our security scanners use millimetre waves – radio waves that have a power output much lower than portable personal devices like mobile phones. The security scanners can detect a wide range of potential security threats, and none of the data images are stored.
The image produced by a security scanner looks like this: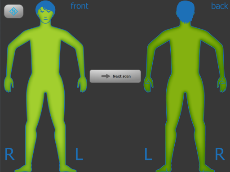 If you wish to opt out of the security scanner enhanced search, there are private security checks available – please ask a member of our staff.
You can find more information about security scanners used at UK airports on the Department for Transport website. Alternatively, here is more information and details on the security body scanners used at Glasgow Airport.
If you have any questions at all, feel free to tweet us (@GLA_Airport) or send us a message on Facebook.