Priority security at Glasgow Airport allows you to glide past the lines and start shopping and relaxing faster, all before you fly.

In a hurry or just can't stand waiting? We appreciate the security process can feel a bit daunting to our customers, particularly those that are not frequent travellers. So, why not book Priority security to make your security experience as fast as possible.

Security measures at Glasgow Airport they are in place for your safety and if you follow our signage in the security search area you shouldn't have any problems. If you do have any questions please ask our friendly security staff who will be happy to help.
Preparation
A little preparation before you travel will really help you speed through the security screening process. Please check in advance what you can and cannot take in your hand luggage.
Have all your liquids sorted out before you leave for the airport and if you forget to put them in your 1 litre resealable plastic bag you can pick one up for FREE at the station before security.
Being prepared helps to speed up the process and allows you to relax and enjoy your journey or holiday.
Please note: According to CAA/DFT guidance Spicebomb by Viktor & Rolf will no longer be permitted through security until further notice.
 Cabin baggage liquid restrictions (111KB PDF)
 What can I do to get through security faster? (68KB PDF)
Security Scanners
In keeping in line with legislation and new technology, security (body) scanners were deployed across all security lanes in Glasgow from the 20th of December 2016.
Security scanners used at Glasgow are safe. The UK Government has concluded that the use of this equipment does not pose any risk to health. The scanning equipment does not produce X-RAYS, nor does it emit ionising radiation.
Our security scanners use millimetre waves. This technology uses radio waves at a power output many times lower than portable personal devices like mobile phones. The security-scanners can detect a wide range of potential threats to security in a matter of seconds and will be used alongside the airport's existing security screening systems. No data images are stored.
Images look like this;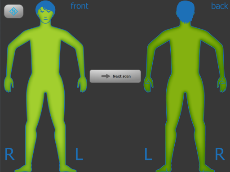 If you wish to "opt out" of the Security Scanner Enhanced Search - in Private is the only option available.
Information about security scanners at UK airports can be found on the Department for Transport website. www.dft.gov.uk
 Security body scanners used at Glasgow Airport (195KB PDF)