Special assistance

Passengers with reduced mobility
If you require special assistance or are travelling with someone who requires help with their journey through Glasgow Airport the following information should help ensure that your experience is as speedy and enjoyable as possible.
How to make your journey easy
Glasgow Airport is dedicated to providing accessibility for people with reduced mobility (PRMs) throughout its facilities at Glasgow Airport. Assistance for passengers with reduced mobility is available at both the Main Terminal building and T2. Our Terminal building is fully accessible including toilets and lifts, inductions loops are fitted to facilitate amplification of announcements for passengers with hearing difficulties and all are clearly signposted.
> Download our helpful guide Assistance for Passengers with Reduced Mobility (PDF 507KB)
We also have a simple guide to help plan your journey. 

> Download A simple guide for Travelling by Air (PDF 271KB) 
Changing places
Passengers with profound and multiple learning difficulties and disabilities can make use of Glasgow Airport's Changing Places facility.
The room will also benefit passengers with a wide range of physical disabilities such as spinal injuries, muscular dystrophy and multiple sclerosis who often need extra equipment and space to allow them to use toilet facilities safely and comfortably.

Located in the airport's main check-in hall to ensure it is accessible to both departing and arriving passengers, the spacious facility's key features include a height-adjustable sink and hydraulic bed, an electronic hoist, shower and non-slip floor and privacy screens. 
The terminal also has wayfinding signage directing passengers to the Changing Places room, which is located between the WH Smith and Luggage Point stores in the main check-in hall. 
With more than 9.9 million passengers travelling through its doors in 2017, Glasgow becomes the largest airport in Scotland to house a Changing Places facility and one of 14 across the UK. 
The airport's compliance team worked with representatives from Promoting A More Inclusive Society (PAMIS) on the design and requirements of the facility.

Requesting Assistance
If you require assistance you should inform your airline at least 48 hours before you travel, however, our advice would be to give your airline as much notice as possible for both your departure and your arrival. This is best done at the time of booking your travel arrangements and will ensure that you receive the most appropriate assistance in a timely manner.
Assistance will be provided free of charge to and from all of the on airport arrival points up to the departure point at the gate and likewise for the return journey. This includes from Car Park 1 and 2 as well as car and taxi drop off/pick up points and bus stands.
On arrival at Glasgow Airport, passengers can use the Help Points detailed below to gain assistance or can go to the Special Assistance Host Desk in Main Terminal check-in area (adjacent to the escalators) or in the check-in area in T2 where there is another Help Point.
If a passenger wishes they can go directly to their Check-in desk and inform airline staff during their check-in that they have requested assistance. A representative from our service provider will arrive to provide assistance or you may be redirected to the host desk after check-in if you are able to walk this short distance.
If we do not receive advance notice of your requirements we promise to make all reasonable efforts to accommodate you but you may have to wait a little longer for assistance.
Please remember that even if you are fairly mobile, there can be long distances within airports and therefore assistance might still be required. So make your plans well in advance. You should arrive at the airport car parks at least 2 hours prior to departure if you require assistance from here. Should you require assistance from check-in then please arrive at least one hour prior to departure.
Help Point Locations
Drop off point (x3)
Coach drop off point (x2)
Within car parks 1,2 and 3
Central forecourt bus stands
Long stay car park 4 beside bus shelter
Walking Distances
Below are approximate walking distances to key areas within the airport:
Drop off/Car Park 1 to Main Terminal 300m
Drop off/Car Park 1 to T2 400m
Car Park 2 to Main Terminal 100m
Car Park 2 to T2 200m
T2 to Main Terminal Special Assistance Area 150m
Information on Mobility Equipment
Where possible you should be permitted to remain within your own mobility aid until the last possible moment at the gate. If you wish to check in the mobility aid and use an airport wheelchair then please request this at check-in. On arrival at the airport, your mobility aid should be repatriated to the passenger at the gate. If your mobility equipment is damaged we will arrange for use of an airport mobility aid until such times as the damage can be resolved with your airline although any replacement might not be on a like for like basis. Please speak to an agent from our service provider should this be required.
Electric Mobility Aids (EMAs)
If you are travelling with an electric mobility aid it is important that you provide details on the make and model to your airline at the time of making the booking. This will be passed to the airport to allow them to make it safe before loading into the hold of the aircraft.
Where the PRM does not provide adequate information on how to make an electric mobility aid safe and it is not reasonably possible for the aircraft operator to obtain suitable instructions and pass these on to the airport operator, the airport operator is not under any further obligation to make the aid safe for transport.
For more information on making EMAs safe please click here.
Assistance dogs
You can bring your assistance dog into the UK without quarantine as long as it meets the rules of the EU Assistance Dog scheme. It is the responsibility of the owner to ensure that their dog is fully compliant with the scheme. If your assistance dog doesn't comply with the rules it may not be able to enter Great Britain or may be licensed into quarantine on arrival.
Please contact our service provider to make enquiries.
Further info on the Assistance Dog scheme can be found here.


Travelling with a Hidden Disability
We have been working with a number of different charities to improve our staff training and awareness of hidden disabilities and to improve the assistance we provide. If you or someone you are travelling with have a hidden disability we will be happy to provide you with a lanyard which will discreetly identify you to airport staff as requiring additional support.
Our front line Security staff have been trained to recognise these lanyards and offer special assistance to passengers passing through the Security Search process. To obtain one, kindly check in with the special assistance desk on the ground floor in our main check-in area and they will also explain what we can do to help you on your journey.


Travelling with Autism
If you are travelling with Autism we realise that this can be particularly difficult in a busy airport and we have been working hard to make this as easy as possible.
You should always request assistance first with your airline or travel agent and ensure that you book as "DPNA assistance" when asked what help you need. You should also ask the airline or travel agent to add a comment including the word Autism. This will enable us to better understand your requirements once you have arrived at the airport and check in at the assistance desk.
We recommend that you contact us, even prior to your journey if we can help with picking quieter times if possible for your flight, and we can explain the options that are available when you travel through our airport and explain the help we can provide.
For those that have not travelled before and are particularly concerned, we can also offer pre-visits when the airport is a little quieter and you can experience the journey and perhaps better prepare for your booked journey. To arrange this please contact our service provider or use the contact details below.
Please find a useful Visual Guide when travelling with Autism.

> Download A Visual Guide to planning your journey (PDF 2MB)
Travelling with Medicines, Mobility and Medical Equipment 
The CAA has provided a useful guide if you are travelling with Medicine, Mobility or Medical equipment whilst flying. There is also an FAQ: At the Airport on the same page on the use of airport screening equipment on medical equipment such as pacemakers or insulin pumps. For further info please click on the link below
>CAA guide for travelling with Medicines, Mobility and Medical Equipment.


Travelling with Allergies
If you are travelling by air with food allergies you may find the links below useful. If you require further info then it is best to consult with your airline.
> Travelling abroad with a food allergy
> Travelling abroad with a nut allergy
Contact our PRM service provider
For Reduced Mobility Assistance queries please contact:
0141 842 7700 (24 Hr)
or email GLA.PRM@ocs.co.uk

Please note this email address is only monitored Mon to Fri, 0900 to 1700. If your query requires a more urgent response please use the phone number above.
Security screening
Our security staff are required under government legislation to carry out a hand-search whenever a passenger activates the archway metal detector alarm. If you are a wheelchair user, that's likely to be the case. We recognise that it may be more suitable to have this search carried out away from the main search area, so please don't hesitate to request this. Private search areas are located within the Central Search Area. If you have any questions or queries throughout the Security process, please do not hesitate to ask for one of our Security Supervisors.
Regulation EC1107/2006
Since 26 July 2008, under Regulation EC 1107/2006, managing bodies of airports, such as Glasgow Airport, have a legal responsibility for the provision of assistance services to persons with reduced mobility when travelling by air. The aim of this legislation is to ensure that consistent high-quality assistance is provided at airports throughout the European community.
For further information on Regulation EC1107/2006 the document can be viewed here.
EU PRM Video
European regulations guarantee certain rights for both disabled people and those with reduced mobility when travelling by air. If this affects you and you want to find out more, please watch this EU video about the services and assistance you have the right to receive at all EU airports. 
Service levels
Glasgow Airport is committed to providing the highest level of service in a timely and courteous manner.  Quality Standards for the assistance services specified in Annex 1 of the Regulation which was established in consultation with air carriers and their agents and organisations representing persons with reduced mobility. View our standards below
Quality standards (PDF 52KB)
How we performed in 2014 (PDF 54KB)
How we performed from April '15 - September '15 (PDF)
How we performed from January '15 - December '15 (PDF)
How we performed from October '15 - March '16 (PDF)
How we performed from April '16 - September '16 (PDF)
How we performed from October '16 - March '17 (PDF)
How we performed from April'17 - September '17 (PDF)
How we performed October'17 - March'18 (PDF)
If you would like to contact us or provide feedback please click here.
The CAA is now consulting on a CAA PRM passenger satisfaction survey. To complete the survey, please click here. 
As part of our commitment to consult with local disability groups, we hold a variety of events throughout the year. For more information, please click here.

Getting to the airport
Getting to the Airport
By Bus, Train or Taxi
Travelling to Glasgow Airport by bus is easy as there are several services connecting with Glasgow city centre, other local destinations and beyond. Many have low floors and are easily accessible for wheelchair users. There are dedicated Help Points at the bus and coach stands and these are listed above.
If booking a Glasgow Airport taxi and you can get dropped off right outside the Main Terminal building and all of these cars are wheelchair accessible. The taxi rank is immediately outside of the terminal and the driver can arrange any assistance required.
More information on buses taxis and trains can be found here.
By Car - dropping off
Glasgow Airport's new dedicated pick-up and drop-off facility is located directly across from the main terminal. Drivers dropping people off should use this facility for quick transactions under 10-minutes only. If picking someone up please make sure the person has cleared immigration (if applicable), has collected any luggage and is ready to meet you. The facility has three zones – coded A, B, and C – to help you coordinate your pick-up. Please note zone C is suitable for all types of vehicles including coaches and mini-buses.
If you plan to enter the terminal with someone you are dropping off, or to meet a passenger arriving back in Glasgow, you should use Car Park 2.
You can view a map of our current road layout here. This includes the location of our Long-Stay Car Park, where drivers can also wait free for up to 30 minutes. There is a free shuttle bus available to take passengers between the Long-Stay Car Park and the main terminal building. It operates every 10 to 15 minutes and takes approximately five minutes.
Picking up
There is a dedicated pickup area on the ground floor of Car Park 2 and there are marked blue badge spaces within this area. For details of charges click here.
Parking
Blue badge spaces are available in our car parks as detailed below
Car Park 2 has 10 spaces on ground floor plus a help point
All other floors have 12 spaces but no help points
All floors have access to 4 accessible lifts
Car Park 1 has 4 spaces on the ground floor of the multi-storey part. There is no call point. The nearest call point is in the area near the pelican crossing.
All blue badge holders are entitled to 30 minutes free parking by presenting their blue badge at the kiosk in any of our car parks.
For more information on car parking and charges click here.

Airport ambassadors
At Glasgow Airport, you'll easily spot our team of friendly, roving Ambassadors who are on hand to answer any questions you may have about any aspect of your visit.
You can also get information on public transport, accommodation, events and places of interest at the VisitScotland travel and visitor information hub on the ground floor at domestic arrivals, opposite WH Smith.
Services for passengers

WiFi access
We know how important it is to stay connected nowadays with your business but also family and friends. That's why at Glasgow Airport, you can enjoy 1 hour of FREE high-speed wireless internet access via your laptop or handheld device.
At Glasgow Airport, you can enjoy 1 hour of FREE high-speed wireless internet access via your laptop or handheld device.
SSID: Glasgow Airport
Tariffs:
1 hour FREE
3 hours £5
24 hours £9

Mobile phone charging
Phones can be charged around the terminal at the different power points available. 
There are two Internet desks located in the main check-in hall which can be used by passengers for a fee. 

Internet & printing
If you don't have a laptop or tablet with you, we have handy internet desks, provided by Surfbox, located around the terminal building.
There are four stations and a printer located in domestic arrivals outside Starbucks. Upstairs at the food court, just before security, you'll find another two. In international arrivals, there are two stations and a printer.
Once you are through security, you will find four stations in the main departure lounge and one station located at Gate 26 on the domestic pier.
Cost is 10p per minute and payment can be made using coins or online using a credit card or voucher.

Photobooth
If you need to get a picture taken in a hurry, you'll find coin-operated Photo-Me booths in ground floor domestic arrivals opposite WH Smith and on the first floor of the main terminal before security. There's also one on the ground floor of Car Park 2.

Payphones
Public telephones can be found throughout the main terminal at Glasgow Airport with payment using cash or cards.
Payphones are in the following locations 
Main check-in area
Main shopping area (near Travelex - after security)
International arrivals

Baggage weighing & wrapping
Did you know that you can weigh your luggage at the airport and avoid excess luggage costs?
You'll find four weigh-ahead luggage systems – these are located in the main check-in hall and also in the check-in area of Terminal 2.
It costs just £1 to weigh a bag but if you are over your allowance, weigh-ahead offers a free reweigh. Foldaway Hand Luggage bags are available buy in order to transfer excess.
This is a great service for passengers who want to protect and secure their luggage from potential damage, bad weather conditions, and general wear and tear.
All you have to do is take your items to the Luggage-Point area located in the main check-in hall on the ground floor of the terminal building.
Bag Wrapping prices start at £10 for a standard sized suitcase. Unorthodox or larger items may be charged more.



Shipping
While our left luggage service, handled by Luggage-Point in the main check in hall, may be perfect for your needs, our shipping service may be the perfect option for larger, bulky items.
We can also deliver any time sensitive, important shipments to countries and territories all over the world, and our wide range of shipping services means there is a cost-effective option for all of your requirements. 
Items are shipped at approximately 4pm every day of the year! Simply complete our simple form at the Luggage-Point service area.
Call Luggage Point on 0330 223 0893

Luggage storage & lost property
Arrived and can't find your bag?
We sincerely hope that your baggage arrives without any issues but sometimes passengers' property does go astray.
Thankfully this is rare however if you find that your baggage has not arrived, please speak to a member of staff from the handling agent for your airline, they will be on hand to help you at the service desk in each facility. To contact the handling agent select your airline use the relevant contact details. 
Lost property
From bracelets to books, wallets to glasses, Luggage-Point is committed to reuniting passengers with their sentimental or valued items thanks to our 24-hour online service. 
You can search for your item on the database in real-time by using the online search facility: 
Searches are based on multiple criteria (date range, keyword (i.e. iPhone) and where the item was lost). Luggage-Point endeavours to respond to all enquiries within 24 hours. 
You can also call our dedicated team on 0330 223 0893 between 4 am and 9 pm daily or send an email enquiry to glasgow@luggage-point.co.uk
 While our luggage storage service, handled by Luggage-Point in the main check-in hall, may be perfect for your needs, our shipping service may be the perfect option for larger, bulky items. 
We can also deliver any time-sensitive, important shipments to countries and territories all over the world, and our wide range of shipping services means there is a cost-effective option for all of your requirements. 
Items are shipped at approximately 4 pm every day 365 days a year. Simply complete our simple form at the Luggage-Point service area.
Call Luggage Point on 0330 223 0893
Please follow the signs and make your way to baggage reclaim areas. This is after border control (UK Border Force) if you are arriving on an international flight.  
Luggage storage
If you need to leave any bags, packages or suitcases at Glasgow Airport, we have a great service which allows you to leave items in a safe, secure storage area for up to 3 months. 
Luggage storage is handled by Luggage-Point in the main check-in hall where friendly staff will help and advise, and issue all passengers leaving items with a receipt – don't lose it as you will need it when you come to pick them up. 
0 - 3 Hours
£8.50 per item
1 Day
£12.50 per item
Additional Day(s)
£10.00 per item
Weekly
£50.00 per item
 
Oversized items will be charged at double the standard rate. Discount available for storage of 25+ items at a time.  Ask a member of the Luggage-Point team for more details.
Call Luggage-Point on 0330 223 0893 to discuss our luggage storage services at Glasgow Airport.
Security

Preparation
A little preparation before you travel will really help you speed through the security screening process. Please check in advance what you can and cannot take in your hand luggage.
Have all your liquids sorted out before you leave for the airport and if you forget to put them in your 1-litre resealable plastic bag you can pick one up for FREE at the station before security.
Being prepared helps to speed up the process and allows you to relax and enjoy your journey or holiday.
Please note: According to CAA/DFT guidance Spicebomb by Viktor & Rolf will no longer be permitted through security until further notice.
 Cabin baggage liquid restrictions (111KB PDF)

Security scanners
Security Scanners
In keeping in line with legislation and new technology, security (body) scanners were deployed across all security lanes in Glasgow from the 20th of December 2016.
Security scanners used at Glasgow are safe. The UK Government has concluded that the use of this equipment does not pose any risk to health. The scanning equipment does not produce X-RAYS, nor does it emit ionising radiation.
Our security scanners use millimetre waves. This technology uses radio waves at a power output many times lower than portable personal devices like mobile phones. The security-scanners can detect a wide range of potential threats to security in a matter of seconds and will be used alongside the airport's existing security screening systems. No data images are stored.
Images look like this;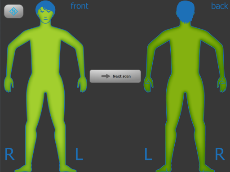 If you wish to "opt out" of the Security Scanner Enhanced Search - in Private is the only option available.
Information about security scanners at UK airports can be found on the Department for Transport website. 
 Security body scanners used at Glasgow Airport (195KB PDF)
Travelling with family

Family facilities
From the moment you arrive until the moment you board your flight, it's our mission to help ensure a smooth start to your family holiday departing from Glasgow Airport. We offer a number of family-friendly facilities and services to help do just this.
Located just after gate 27 on our west pier, the Kids Zone is a free soft play area for children.

Baby changing
If you are travelling with babies and very young children, you will need access to safe, clean baby changing areas and at Glasgow Airport, there are a number of facilities around the terminal for your convenience:
Main check in hall opposite the escalator
To the rear of the foodcourt on the first floor
T2 check in hall
After security, on the first floor by Starbucks
After security, beside the Beardmore Bar
After security, beside Tennents Bar
After security, beside the British Airways lounge
After security, at gates 1-3 and 10-11
Travelling for business

Business use
If you are a regular business passenger or there are several people from your company who are frequent fliers and require internet access while passing through the airport, we offer WiFi access for up to 12 months.
Access can be purchased when logging onto the Glasgow Airport WiFi network when travelling through the terminal. 
In addition to the paid service, there is also 1-hour free WiFi available to all passengers. 
| | |
| --- | --- |
| Duration | Price |
| 1 hour  | £3 |
| 3 hours  | £5 |
| 6 months  | £70 |
| 1 year  | £130 |

Meeting rooms
Glasgow Airport Business Centre is adjacent to the main terminal building and offers excellent conference and rooms for hire. Facilities are modern and professional, and provide an ideal environment for hosting meetings or training sessions at Glasgow Airport plus interviews or presentations.
This convenient Glasgow Airport business centre offers a complete package which is flexible and offers varied catering menus to suit all tastes and budgets.
For further information download our brochure or contact:
Euan Keltie
Tel: 0141 847 5450
Money & payments

Cash machines
If you don't have time to visit a cash machine or pop to the bank before leaving for Glasgow Airport, we have plenty of ATMs both before and after security.
Our machines accept all valid UK bank and building society cards (i.e. Link affiliated) without surcharge, and will also accept major credit cards.
Some ATMs issue Pounds, Euros, and Dollars - please check the sign above the machine to check the curreny it issues. All cash machines issue in multiples of 20 and all Pound notes are english bank notes

You will find ATMs located at domestic arrivals beside Travelex. There are further cash machines located at Travelex post security.

Currency
Why not give yourself one less thing to worry about and pre-order your foreign currency and collect it at Travelex Glasgow Airport when you arrive to check in.
Your currency is guaranteed to be waiting for you, Travelex opens early and closes after the last departure, and of course it takes something else off your holiday to do list. You can also make your currency go further as the Travelex Online Price Promise guarantees that if you find a cheaper overall price, Travelex will refund the difference!*
Don't stress if you arrive at the airport and feel you need a little bit more currency for your trip, Travelex Glasgow Airport has all major currencies in stock including Australian, Canadian, US & New Zealand Dollars, Euros plus Turkish Lira to ensure you won't be left short.
There are Travelex branches located before and after security at Glasgow Airport for your convenience. ATM's are also available at these locations which dispense GBP, USD and Euros.
*conditions apply see travelex.co.uk for details
Other services & facilities

Prayer room
The Glasgow Airport prayer room can be found on the first floor of our departures concourse in the Priority Security corridor.
It provides a quiet, restful place for passengers of all faiths and denominations, and is open 24 hours a day.
Meanwhile, our Airport Chaplain, Commissioner Keith Banks, conducts services at various times during the week – these are announced over our public address system.

Dry cleaning
Did you know that you can even drop off your dry cleaning at Glasgow Airport, Monday to Friday?
Simply take your items to Luggage-Point in the main check in hall – it's a great service for busy passengers, particularly those flying on business who can drop it off when they arrive at the airport and collect it on the way home.
Call 0330 223 0893 to find out more details about Glasgow Airport's dry cleaning service.

Smoking areas
If you smoke, you are permitted to do so only in our clearly signposted areas in the central island between the terminal and car park 2. Smoking is banned by law in enclosed public spaces in Scotland – this includes all terminal buildings at Glasgow Airport. There are no smoking facilities in the main terminal building and passengers cannot smoke when past security.
Individuals smoking outwith these areas are liable to receive a fixed penalty fine of £50.
Electronic cigarettes are also not permitted within the terminal buildings and past security.
Plane spotting
Who doesn't like watching the planes take off and land? Children especially love doing this and at Glasgow Airport – after you've gone through security – they'll get a fantastic view of the runways, taxiways and stands from our family-friendly restaurants or the main departure lounge.