Please note that the work of the FlightPath Fund has been suspended in light of the ongoing coronavirus COVID-19 situation and we will not be reviewing applications at this time.
We take great pride in the active role we play in the communities near the airport and are delighted to report that hundreds of community groups and charities have benefited from our funding programme, the Glasgow Airport FlightPath Fund.
Established in 2010, the FlightPath Fund was set up with the sole intention of providing financial support to charities and community groups committed to improving the facilities and services available to local people.
Since launching, the total sum granted to over 600 projects and activities has amounted to almost £1,600,000.
The Glasgow Airport FlightPath Fund is designed to ensure the communities surrounding the airport share in its success. The FlightPath supports community groups and charities in Renfrewshire, Glasgow and East and West Dunbartonshire.
The Flightpath Fund focuses its community investment in a number of areas including education, the environment, and employment.
 Glasgow Airport's FlightPath Fund will award £10,000 each to four environmental projects to mark a decade of supporting local communities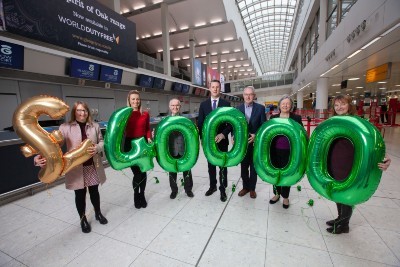 To celebrate 10 years of the FlightPath, the Fund's committee is urging local groups, charities and organisations to submit applications to support sustainability-themed projects aimed at improving the environment in the communities neighbouring Glasgow Airport and beyond. A £10,000 award grant will be made available to projects based in each of the four local authority areas – Renfrewshire, Glasgow, East Dunbartonshire and West Dunbartonshire – supported by the FlightPath Fund during the last decade. Glasgow Airport's Sustainability Assurance Manager Kirsty Webster has joined the FlightPath Fund's committee this year to help identify award submissions that best
demonstrate a positive environmental impact.
Chair of the FlightPath Fund Archie Hunter said: "Supporting sustainability-themed projects and engaging with local community groups and organisations that focus their efforts on improving the environment has been a core value of the FlightPath Fund for the last 10 years.
"During this time, the FlightPath Fund has supported a number of environmentally-focused projects and organisations. These include the purchase of an electric vehicle for a car club, buying polytunnels for growing groups and support for community gardens and the preservation of local greenspaces.
"For several years now the FlightPath Fund has also made it possible for hundreds of school pupils to take part in the Clyde River Foundation's tremendous Flying Fish programme, which teaches young children about the health and biodiversity of their local waterways.
"To mark our 10-year anniversary, we wanted to go further by making £10,000 available to a group, club or charity from each of the four areas working on a sustainability-focused project that shows their dedication and commitment to the improving or enhancing the local environment."
Mark Johnston, Glasgow Airport's Managing Director, said: "The Fund was set up in 2010 to help support our neighbouring communities so that they could share in our success. It remains a source of great pride to myself and my colleagues that during the last decade Glasgow Airport has played an active and positive role our local communities.
"The FlightPath Fund committee's decision to introduce a £40,000 Sustainable Communities Challenge is to be commended and supports Glasgow Airport's continued commitment to balance the clear social and economic we bring as one of the region's biggest employers with our climate change responsibilities.
PUDDLES OF FUN WITH CLOAN NURSERY:
This month our digital team heads over to Cloan Nursery to find out how the kids are getting on with their new playsuits! Cloan is a brilliant nursery school which provides care and educational support for more than 61 children aged between six weeks and five years old in the Drumchapel community of Glasgow.
As you may well be aware, Glasgow weather can be a bit…wet. While us adults prefer to hide indoors during the gloomy winter days, kids absolutely love a good splash about in the rain. 
While it's only natural that the children enjoy a good splash in the puddles, with the Scottish weather being what it is, the children must be properly dressed when they head outside. Unfortunately, Cloan Nursery only had a handful of outdoor suits. These suits also took hours to dry, which meant that if it was raining only a small group could go out once each day.
How did the FlightPath Fund get involved? 
Angela Fraser, headteacher at Cloan Nursery heard about the work of Flightpath Fund and how it supports community initiatives. Committed to improving the children's experience, Angela applied for financial support to help buy more all-weather suits. In her application she emphasised that outdoor access is hugely beneficial to the physical, mental and emotional well-being of children. 
Cloan Nursery is operated by Glasgow City Council and is surrounded by ample green space, which is perfect for outdoor learning activities for the children. The nursery's garden area even has its own enchanted hut!
The outcome
Drumchapel Councillor Malcolm Balfour, who sits on Glasgow Airport's FlightPath Fund committee on behalf of Glasgow City Council, paid a visit to Cloan Nursery to learn more. Unsurprisingly, Malcolm was won over by the passion shown by Angela and her teaching staff, not to mention a charm offensive from the pupils. At the next bi-monthly meeting of the committee he recommended the FlightPath Fund support the Cloan Nursery's application.
The FlightPath committee was convinced and agreed to fund the purchase of 61 new outdoor play suits – one for each child at the school. Malcolm returned to Cloan nursery to help hand out the suits to some very excited children who wasted no time in donning them and heading outside for some muddy adventure.
Angela said: "We can't thank Glasgow Airport's FlightPath Fund enough for this. Thanks to this fantastic award, every child at Cloan Nursery School can enjoy outdoor play and learning all year round."
Picture: Kids playing outside/video
About the FlightPath Fund
Established in 2010, the FlightPath Fund was set up to provide financial support to charities and community groups for local people in one of the largest cities in Scotland, Glasgow.
Since launching, the total sum granted to over 600 projects and activities has amounted to almost £1,600,000.
The Glasgow Airport FlightPath Fund is designed to ensure the communities surrounding the airport share in its success. The FlightPath fund supports community groups and charities in Renfrewshire, Glasgow and East and West Dunbartonshire.
To find out more about applying for FlightPath Fund support click here.

FlightPath committee
The committee meets five times per year under the chairmanship of accountant Archie Hunter, who brings considerable financial expertise to the role with previous positions including senior partner for KPMG (Scotland) and past president of the Institute of Chartered Accountants.
To ensure the funding targets communities near the airport, the FlightPath committee consists of independent representatives from Renfrewshire, Glasgow, and East and West Dunbartonshire Councils.

Members of the committee from left to right: 
Chair Archie Hunter, Councillor Bill Binks, Renfrewshire Council, Councillor Iain Nicolson, Renfrewshire Council, Councillor Malcolm Balfour, Glasgow City Council, Councillor Marie McNair, West Dunbartonshire Council and Councillor Rosie O'Neil, East Dunbartonshire Council.
Dates for 2020 meetings will be confirmed in due course.
March 20
May 15
June 19
September 18
November 20 
Application forms are available to download below and must be submitted no later than three weeks prior to a meeting date. Please send the completed application form to flightpath@glasgowairport.com
A valid bank statement and proof of bank details is required in order that an award payment can be made. These must be supplied within 30 working days of the receipt of the award letter or email sent by the Fund's administration team. Failure to do so will result in the award being rescinded.
FlightPath Application Form (DOC 125KB)
FlightPath Guidelines (PDF 179KB)
10-Year FlightPath Fund Application
December edition