The FlightPath Fund is now accepting applications
 We take great pride in the active role we play in the communities near the airport and are delighted to report that hundreds of community groups and charities have benefited from our funding programme, the Glasgow Airport FlightPath Fund.
Established in 2010, the FlightPath Fund was set up with the sole intention of providing financial support to charities and community groups committed to improving the facilities and services available to local people.
Since launching, the total sum granted to over 600 projects and activities has amounted to almost £1,600,000.
The Glasgow Airport FlightPath Fund is designed to ensure the communities surrounding the airport share in its success. The FlightPath supports community groups and charities in Renfrewshire, Glasgow North West and East and West Dunbartonshire.
The Flightpath Fund focuses its community investment in a number of areas including education, the environment and employment.
Latest news
FlightPath Fund returns to deliver over £90,000 in support for 2022
The FlightPath Fund is making more than £90,000 available to help support community groups, charities and sustainability-themed projects local to Glasgow Airport in 2022.
The Fund's committee is once again urging neighbouring groups and organisations to submit applications and is also keen to support sustainability-themed projects aimed at improving the environment in the communities local to the airport.
An awards package of £72,000 is being made available in 2022 to projects and groups of all sizes based in each of the four local authorities supported by Glasgow Airport's FlightPath Fund – Renfrewshire, Glasgow City's Drumchapel area, East Dunbartonshire and West Dunbartonshire.  
The community fund returned at the end of last year with a £70,000 awards total. Following a meeting of the FlightPath Fund Committee in November a total of just over £44,000 was awarded to 19 groups.
Awards included £1000 for protective kits for a children's ice-hockey team, £4350 for 10 local primary schools from across the four areas to take part in an exciting STEM project and £3000 to create a community larder to distribute food and reduce unnecessary waste.
A further £7,700 was also awarded to ensure groups chosen from the local authority areas could take part in life-changing sailing educational programmes with the Ocean Youth Trust.
The remaining balance from 2021 has been carried forward to this year, which means the total award allocation for 2022 will be over £90,000. As always, the money generously donated by our passengers via the six FlightPath Fund collection globes based at the airport will also be added to the awards total.
Archie Hunter, Chair of the FlightPath Fund, said: "It was great to once again get the FlightPath Fund up and running towards the end of last year, and that in such a short space of time we were able to provide nearly £45,000 in vital support to such a diverse range of local groups.
"That Glasgow Airport is once again making funds available to help support neighbouring groups, clubs and organisations must be commended, particularly when you consider the huge challenges it and the wider aviation industry continues to face.
"Myself and my colleagues on the committee are keen to hear from as many local groups as possible this year, so we can continue to help provide support for those who need it most."
The FlightPath Fund was established in 2010 to provide financial support to community groups and charities that are committed to improving the opportunities, facilities and services available to local people. Funding awards will continue to focus on three key areas:
Employment - We recognise the importance of making sure the future workplace is equipped with the skills that society and industry demands and, by supporting specific projects, we aim to help young people in the community reach their full potential. Awards will be given to exciting local projects that can break down barriers to employment through skills development.
Environment - To underpin our commitment to making a positive contribution to the environment, the FlightPath Fund supports projects with a focus on protecting and enhancing our natural environment.
The FlightPath Fund supports social and educational projects which are designed to bring positive benefits and to change the lives of people in the communities we serve.
Application forms can be downloaded below and returned via email only to flightpath@glasgowairport.com.
The Fund's Community Council will meet in 2022 on the following dates:
Friday 1 April
Friday 17 June
Friday 16 September
Friday 18 November
Applications should be submitted no later than three weeks prior to the next meeting and are available to download below along with our guidelines: 
FlightPath Application Form (DOC 125KB)
FlightPath Guidelines (PDF 179KB)
A valid bank statement and proof of bank details is required in order that an award payment can be made. These must be supplied within 30 working days of the receipt of the award letter or email sent by the Fund's administration team. Failure to do so will result in the award being rescinded.
Here are examples of how the FlightPath Fund makes a difference
Fund digs deep to support allotment project promoting good mental health
Glasgow Airport's FlightPath Fund has awarded £2310 to help an allotment project in Drumchapel take root.
The award was made to Men Matter Scotland – a charity which supports mental health, improve the quality of life and expand and enrich the connections amongst local men in the area.
Following the allocation of an allotment space in the Drumchapel area, the charity applied to the FlightPath Fund for support in buying key equipment including a storage shed, polytunnel, gardening tools and raised beds ahead of the growing season this spring.
Derek Anderson, a trustee from Men Matter Scotland, said: "We facilitate a range of activities that support positive mental, physical and emotional health and well-being for men.
"We run weekly group sessions and activities where men can meet in a safe and friendly place, talk openly, be listened too and feel supported without judgement in a confidential setting amongst peers.
"We have around 30 members keen to work and spend time in the allotment following its allocation. It will give members, many of whom have presented with mental-health challenges, something to focus on, look after and take pride in.
"As well as the growing and gardening aspect of the allotment, it will also be a place of support and nurture for our members. We are very grateful to the FlightPath Fund for providing this much-needed support."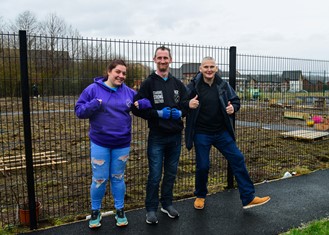 Sustainable community larder awarded £3000
A £3000 FlightPath Fund award has helped establish a community food larder in Lochwinnoch.
Now up and running, the Lochwinnoch Community Larder is currently working with over 165 families per week.  
Based in Lochhead Gardens and operated by volunteers from LEAP Together, the community larder redistributes surplus foods from local supermarkets that would have been destined for landfill, which reduces unnecessary food waste, production and the logistics of disposal involved.
The FlightPath Fund award was also used to help purchase a community fridge and a seed library to support LEAP Together's Diggin' It project – an initiative helping user of the larder to grow their own vegetables sustainably at home.
Tori Bell, project officer, at LEAP Together, said: "We're really grateful to the FlightPath Fund for their prompt response to our request, and for the award, which will really help our project at this critical stage of development.
"We're tackling climate change by redistributing surplus food otherwise destined for landfill. It's an important project which is building resilience in our small community and this money is really making an impact towards this aim."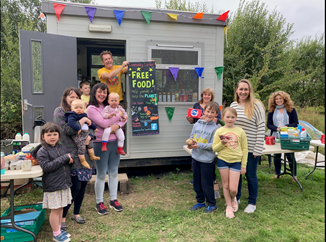 STEM Project Generation Science 
The FlightPath Fund has awarded £4350 to ensure pupils from 10 primary schools can take part in fun, interactive science activities from Generation Science.
Run by specially-trained Science Communicators from educational charity Edinburgh Science Foundation, the programme will deliver workshop kits to pupils from the schools based in Glasgow, Renfrewshire and East and West Dunbartonshire.
The 10 schools taking part thanks to the FlightPath Fun are:
Camstradden Primary, Drumchapel
Antonine Primary School, Drumchapel
Thorn Primary School, Johnstone
St Mary's Primary School, Renfrew
Heriot Primary School, Foxbar
Howwood Primary School, Howwood
Hillhead Primary School, Kirkintilloch
Lairdsland Primary School, Kirkintilloch
St Eunan's Primary School, Clydebank
Linnvale Primary School, Clydebank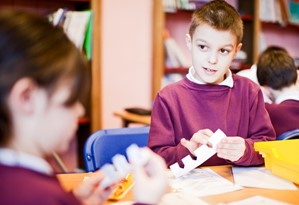 Ride 63
Community cycle group Ride 63 based in Castle Semple Country Park received more than £4000 to ensure members continue to get in the saddle.
The group, which supports riders of all abilities, was awarded £1234 to purchase a mobile hoist to allow members with physical disabilities to access a range of adaptive cycles. A further £3000 was awarded to improve areas of the bike tracks to provide better access for all cyclists.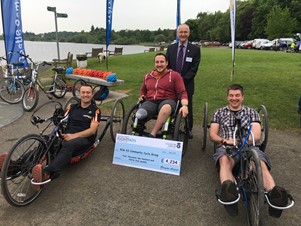 Cloan Nursery
Cloan Nursery made an application to buy outdoor all-weather suits for the children.
The Drumchapel-based nursery school provides care and educational support for more than 61 children aged between six weeks and five years old.
The nursery only had a handful of suits children could access in order to go outside to play and learn in the fantastic garden area. This meant only they could only go out in small groups and the suits then had to be dried over time.
Thanks to a £2000 award from the FlightPath Fund nursery staff were able to buy 61 play suits – one for every child.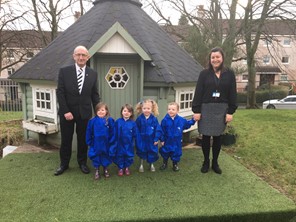 The Flying Fish biodiversity project
The FlightPath Fund has been the principal supporter of the Clyde River Foundation charity's Flying Fish education programme for several years.
In that time over 2,300 from 95 Primary Six classes from Glasgow, Renfrewshire and Dunbartonshire local authority areas learn more about their local streams and rivers.
The project sees the pupils take part in outdoor visits to discover more about the biodiversity of their local streams and rivers, measure the health of the water and learn about the linkages between their ecosystems and the land.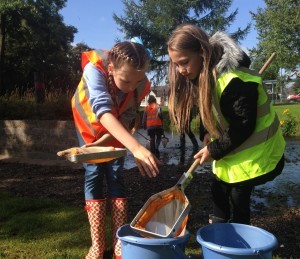 Our FlightPath Fund committee
The committee meets under the chairmanship of accountant Archie Hunter, who brings considerable financial expertise to the role with previous positions including senior partner for KPMG (Scotland) and past president of the Institute of Chartered Accountants.
To ensure the funding targets communities near the airport, the FlightPath committee consists of independent elected representatives from Renfrewshire, Glasgow, and East and West Dunbartonshire councils.
Members of the committee from left to right: 
Chair Archie Hunter, Councillor Bill Binks, Renfrewshire Council, Councillor Iain Nicolson, Renfrewshire Council, Councillor Malcolm Balfour, Glasgow City Council, Councillor Jim Finn, West Dunbartonshire Council and Councillor Rosie O'Neil, East Dunbartonshire Council.
Dates for 2022 meetings will be confirmed in due course.
Application forms are available to download below and must be submitted no later than three weeks prior to a meeting date. Please send the completed application form to flightpath@glasgowairport.com
A valid bank statement and proof of bank details is required in order that an award payment can be made. These must be supplied within 30 working days of the receipt of the award letter or email sent by the Fund's administration team. Failure to do so will result in the award being rescinded.
FlightPath Application Form (DOC 125KB)
FlightPath Guidelines (PDF 179KB)

December edition