Founded in Montreal 35 years ago, Air Transat is a leading leisure travel brand. Voted World's Best Leisure Airline by passengers at the Skytrax World Airline Awards, Air Transat flies direct from Glasgow to Toronto, with connecting flights to Montreal, Calgary and Vancouver. Air Transat strives to serve its customers with enthusiasm and friendliness at every stage of their trip, and emphasizing safety throughout. It is renewing its fleet with the greenest aircraft in their category as part of a commitment to a healthier environment, knowing that this is essential to its operations and the magnificent destinations it offers.
Air Transat Destinations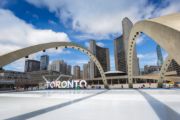 Air Transat Glasgow Airport
Airport Services and Facilities
Check out the services and facilities available at Glasgow Airport before your Air Transat flight
Learn More
Book Airport Parking
Book your airport parking online in advance to save both time and money before your Air Transat flight
Book Now
Lounges
Enjoy panoramic runway views and a taste of the best food and drink options that Glasgow has to offer. Pre-book today and relax in style before you fly and start every trip off the best way.
Learn More
Cabin Baggage
Air Transat Baggage Allowances
Cabin baggage varies for each flight.
Please use the Air Transat website to check your allowance.
Learn More
Need to get in touch with Air Transat?
Contact Air Transat
Contact: 00 800 87 26 72 83 - This is a toll-free number. Please ensure that you dial the number exactly as shown (including the 00 prefix) and that international dialing is enabled on your landline or mobile telephone.
International Code: TS
Departs From: Terminal 2