The Emirates story started in 1985 when they launched their operation with just two aircraft. Today, they fly the world's biggest fleets of Airbus A380s and Boeing 777s, offering their customers the comforts of the latest and most efficient wide-body aircraft in the skies. 
They inspire travellers around the world with their growing network of worldwide destinations, industry-leading in-flight entertainment, regionally inspired cuisine and world-class service.
Emirates Destinations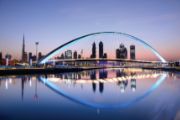 Dubai
United Arab Emirates
Emirates Glasgow Airport
Airport Services and Facilities
Check out the services and facilities available at Glasgow Airport before your Emirates flight
Learn More
Book Airport Parking
Book your airport parking online in advance to save both time and money before your Emirates flight
Book Now
Lounges
Enjoy panoramic runway views and a taste of the best food and drink options that Glasgow has to offer. Pre-book today and relax in style before you fly and start every trip off the best way.
Learn More
Cabin Baggage
Emirates Baggage Allowances
Economy Class customers can check in up to 35kg depending on the fare type.
Business Class passengers 40kg and First Class passengers up to 50kg.
Passengers in all three classes can check in up to 10 pieces of baggage as long as it stays within the checked weight limit for their cabin class.
Learn More
Need to get in touch with Emirates?
Contact Emirates
Contact: +44 600 900 100 / 0344 800 2777
Email: contact@emirates.com
International Code: EK
Departs From: Terminal 1