Noise
If you are a local resident and have concerns about aircraft noise, please call us at this freephone number: 0800 013 2429. You will be asked to leave your message which we guarantee will be responded to within three working days.
Alternatively, you can email GLAnoise@glasgowairport.com
2018 - 2023 Noise Action Plan  
We recognise aircraft noise can be an important issue for our local communities. The way in which we manage this is set out in our Noise Action Plan (NAP), which the airport is required to update and publish every five years.
Our 2018-2023 Noise Action Plan was produced based on extensive feedback gathered during a 13-week public consultation which took place between 15 January and 13 April 2018.
The latest version is now available to view.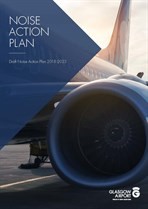 Download the Noise Action Plan (PDF 4MB)


WebTrak
WebTrak is a community-facing platform for reviewing airport flights and noise. Investigate and review historical airport noise, flights and weather on our dedicated platform. Noise information on WebTrak is updated every 15 minutes. 
View WebTrack for Glasgow Airport
Engine Testing
Glasgow Airport Limited (GLAL) is responsible for the control of noise and vibration caused by engine ground running on the airfield. It is the policy of GLAL to ensure that engine testing is carried out in a manner which will cause the least disturbance to the surrounding community.
To this end, there will be no ground running of aircraft engines at any time within the boundary of Glasgow Airport without the consent of the Airfield Operations Duty Manager (AODM).  To minimise disturbance, engine runs will normally only be granted during the following local times; 0500 - 0700 low power and/or short power runs (maximum 5 minutes) & 0700 - 2300 high power, extended runs.
The table below shows the number of ground engine runs carried out during 2018.


| | | | | |
| --- | --- | --- | --- | --- |
| Time Period | Jan - March | April - June | July - Sept | Oct – Dec |
| 05:00 – 07:00 | 1 | 1 | 5 | 5 |
| 07:00 – 23:00 | 100 | 88 | 125 | 77 |
| 23:00 – 05:00 | 0 | 2 | 1 | 0 |