Noise
If you are a local resident and have concerns about aircraft noise, please call us at this freephone number: 0800 013 2429. You will be asked to leave your message which we guarantee will be responded to within three working days.


Noise Action Plan Consultation 
We recognise aircraft noise can be an important issue for our local communities. The way in which we manage this is set out in our Noise Action Plan (NAP).  The airport is legally required to publish a Noise Action Plan every five years and the current version is now due to be updated. 
It is important that when producing this document we ensure our neighbours and stakeholders are able to provide feedback on the airport's plans for the next five years. 
In order to gather this feedback, Glasgow Airport has launched a 13-week public consultation process which will close on Friday 13th April 2018. 
Following the completion of the public consultation, Glasgow Airport will produce a final version of the Noise Action Plan document which will incorporate a record of responses and how they have been taken into account.
Our consultation has now closed. The feedback we have received from local communities over the past 13 weeks has proved extremely valuable and we would like to thank all those who took the time to share their views.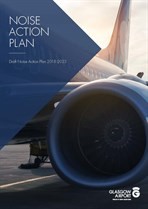 Download the Noise Action Plan (PDF 3.18MB)
How do I get a copy of the draft Noise Action Plan? 
Paper copies can also be requested by emailing the Noise Action Plan inbox. 

napconsultation@glasgowairport.com 

Or by writing to:

Noise Action Plan Consultation, Glasgow Airport, Erskine Court, St Andrews Drive, Paisley, PA3 2SW
How do I take part in the consultation? 
If you would like to participate in the consultation, comments can be submitted in writing, by email or via the online form. 

Submit a response to the Noise Consultation

Drop-in events 
As part of the public consultation, we will host a series of drop-in events. Dates and venues will be confirmed and made public at a later date.  
Airspace Change Consultation 
In addition to the Noise Action Plan consultation, Glasgow Airport is also running a separate consultation on Airspace Change.
View the Airspace page for details on the consultation.
Engine Testing
Glasgow Airport Limited (GLAL) is responsible for the control of noise and vibration caused by engine ground running on the airfield. It is the policy of GLAL to ensure that engine testing is carried out in a manner which will cause the least disturbance to the surrounding community.
To this end, there will be no ground running of aircraft engines at any time within the boundary of Glasgow Airport without the consent of the Airfield Operations Duty Manager (AODM).  To minimise disturbance, engine runs will normally only be granted during the following local times; 0500 - 0700 low power and/or short power runs (maximum 5 minutes) & 0700 - 2300 high power, extended runs.
The table below shows the number of ground engine runs carried out during 2017.


| | | | | |
| --- | --- | --- | --- | --- |
| Time Period | Jan - March | April - June | July - Sept | Oct – Dec |
| 05:00 – 07:00 | 0 | 1 | 3 | 1 |
| 07:00 – 23:00 | 53 | 67 | 64 | 73 |
| 23:00 – 05:00 | 1 | 0 | 2 | 0 |
Current Noise Action Plan