The programme will see 1km of dilapidated path upgraded to create improved cycle route through Glasgow Airport.
Work on a £210,000 project to upgrade a one-kilometre section of a continuous cycling and walking route through Glasgow Airport is now underway. 
To be completed in early 2018, the project will greatly improve the overall 2.5km route from Paisley Moss through the Glasgow Airport campus ending at Abbotsinch Road, where it will join with investments being made in active travel facilities through the Glasgow and Clyde City Deal, including the Glasgow Airport Investment Area (GAIA). 
At the western end, the route will hook into Renfrewshire Council proposals to develop a link to Bishopton and will form a key part of the local authority's wider cycle network.
In a partnership with Renfrewshire Council and with funding from Sustrans Scotland's Community Links grant programme, the Glasgow Airport project will see approximately 1.5km of track at the Paisley Moss Nature Reserve upgraded from an often muddy path to a cycling standard bound surface providing fantastic views of the airfield users can enjoy all year round.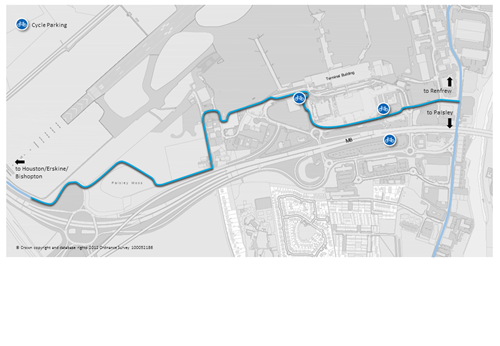 The overall project will improve connectivity, accessibility, surfacing, sign-posting and road crossings on the route, which links with the adjacent cycle path network connecting the airport to Inchinnan Business Park to the northwest, Renfrew to the northeast and Paisley to the south.
In order to carry out the improvement works it will be necessary to close the Paisley Moss part of the cycle route from Friday, November 24 to Friday, December 22 to resurface the one-kilometre track
Ross Nimmo, head of planning and development at Glasgow Airport, said: "We are committed to improving the sustainable transport links in and around the airport.
"As well as improving what is a very popular public access route on our doorstep, this investment will also offer many of the thousands of people based at, or who use the airport, an alternative and attractive transport option that's both enjoyable and promotes a healthy lifestyle.
"In terms of the of the near 5000 people who work at the airport, we believe almost half live within a four mile radius of the airport and 16% within two miles, so it made sense for us to undertake and part-fund this project.  Encouraging modal shift to more sustainable forms of travel for both passengers and staff is a key component of Glasgow Airport's forthcoming Surface Access Strategy, and this initiative will play a role in helping us work towards our targets.
"At a time when the Scottish Government is committed to supporting active travel, we are pleased to be able to work with them through Sustrans and Renfrewshire Council to deliver this project."
Sustrans Scotland Community Links Manager Dave Keane said: "As a major employer in the region, it is great to see Glasgow Airport and Renfrewshire Council working together to help local people travel more actively to the airport.
"This project is the first in a series of improvements planned to the area and, through Sustrans' Community Links programme, we look forward to continuing to support the council to make it easier for people walk and cycle for more of the journeys they make every day."
Earlier this year Glasgow Airport made a significant investment to upgrade the internal road, cycling and walking network within its campus grounds to compliment this project.
The airport also operates a cycle to work discount scheme and pays for regular bike repair surgeries for staff, while passengers can make use of recently installed Glasgow 2014 Commonwealth Games Legacy bike shelters which tripled the number of spaces available from 22 to 66.