Two world-famous Scottish brands are set to make their official retail debut as 'The Glasgow Store' opens at Glasgow Airport.
Located on the first floor of the main terminal, the new boutique features merchandise from the iconic IRN-BRU and Tunnock's brands.
Fans of 'Scotland's other national drink' will be able to choose from sliders, swim shorts, bucket hats, t-shirts, and a host of other BRU-branded goods, while lovers of the legendary Tunnock's caramel wafer and teacake can choose from an array of quality gifts including headwear, homeware and accessories.
Also available in store is the high-end range from emerging Glasgow brand Albany Clothing, whose quality fashion line pays homage to the city's iconic Duke of Wellington statue. Featuring polo shirts, hoodies and caps, each item features Glasgow's traffic-cone-adorned mascot.
Adrian Troy, Marketing Director at IRN-BRU said: "Whether you're landing in Scotland for the first time and looking to immerse yourself in some of the country's most loved brands, or a proud patriot looking to show off IRN-BRU merch on holiday, The Glasgow Store has you covered. From sliders to swim trunks to vintage logo t-shirts and fanny packs – there's something for everyone and we're excited to see our vibrant range go global."
Fergus Loudon, Operations Director with Tunnock's noted: "Where better to open than one of the UK's busiest airports? With The Glasgow Store, we are reinforcing and, in some cases, introducing the city's most iconic brands and one of its most celebrated landmarks to the millions of passengers who use Glasgow Airport annually."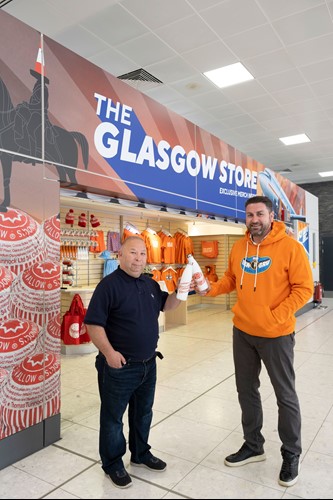 Craig Norton, Retail Account Manager at Glasgow Airport commented: "We are really pleased to welcome The Glasgow Store to the Airport and I'm sure it will be a big hit with our passengers. The colourful, eye-catching brands of IRN-BRU and Tunnock's will help spotlight the upcoming brand of Albany Clothing.
"We are also tremendously proud that some of our new retailers and catering partners have strong links with the city and that we can support local entrepreneurs showcase their unique brands to visitors from all over the world who travel through the airport."
Joe O'Loughlin, Retail Manager of The Glasgow Store & co-founder of Albany Clothing added: "We're bucking the trend with this opening as it's one of those rare occasions when demand for products sold exclusively online is such that a physical retail space is warranted. I think it's also testament to the enduring popularity of IRN-BRU and Tunnock's, not to mention the Duke of Wellington!"