The FlightPath Fund has awarded £800 to help community first responder volunteers buy life-saving equipment.
The award made to Milngavie Community First Responders was used to purchase a training defibrillator.
All Milngavie Community First Responders are volunteers and are trained by the Scottish Ambulance Service to attend specific 999 calls in the local community in the crucial minutes before an ambulance arrives.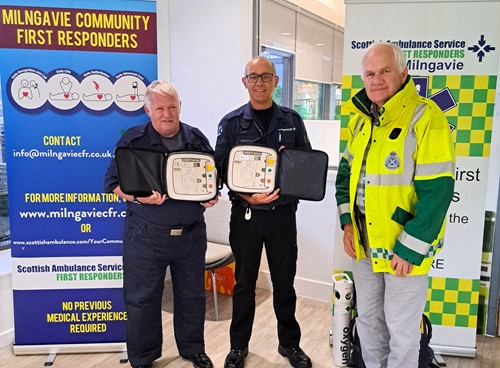 Their role is to help stabilise a patient and provide the appropriate care until the more highly skilled ambulance crew arrives on scene to take over the treatment. One of the team's key roles is in dealing with cardiac arrests, where first responders can administer a defibrillator to shock a patient and conduct airway management with the addition of oxygen therapy until an ambulance crew arrives.
The team also attend the following medical emergencies as first responders in their local area:
Stroke
Choking
Diabetic emergencies
Breathing difficulties
Seizures
Chest pains
Unconscious patients
John Lightbody, Chair of the group, said: "As Community First Responders, we respond to 999 calls for the ambulance service. We are fully equipped with medical kits as well as a defibrillator and oxygen.
"Our other roles in the community include familiarisation courses on CPR and de-fibs, raising awareness and helping to advise, secure funding and establish Public Access Defibrillators. As we are self-funded, this would only be possible with generous donations by organisations like Glasgow Airport's FlightPath Fund. Without it we wouldn't be able to build community resilience and help to saves lives in the community.
"We would like to thank the FlightPath Fund for this support and know that this will help to reduce the number of out-of-hospital cardiac arrests that so often have a bad outcome."
The Community First Responder initiative creates an even faster response for patients and is co-ordinated with NHS ambulance resources. In a medical emergency it is often the simple first aid skills, like making sure an airway is clear, that can save a life.
To find out more about the work of Milngavie Community First Responders click here. The group is always recruiting and local residents interested in volunteering should email info@milngaviecfr.co.uk

More than £130,000 is being made available by the FlightPath Fund this year to support community groups, charities and sustainability-themed projects local to Glasgow Airport. A total of £79,000 has been awarded so far to 42 different groups. 
The Fund's committee is continuing to urge neighbouring groups and organisations to submit applications and is keen to support sustainability-themed projects aimed at improving the environment in the communities local to the airport.
The FlightPath Fund was established in 2010 to provide financial support to community groups and charities that are committed to improving the opportunities, facilities and services available to local people. Since then, the FlightPath Fund has awarded more than £1.7 million in support to over 750 local charities, clubs and organisations.
Funding awards will continue to focus on three key areas:
Employment - We recognise the importance of making sure the future workplace is equipped with the skills that society and industry demands and, by supporting specific projects, we aim to help young people in the community reach their full potential. Awards will be given to exciting local projects that can break down barriers to employment through skills development.
Environment - To underpin our commitment to making a positive contribution to the environment, the FlightPath Fund supports projects with a focus on protecting and enhancing our natural environment.
The FlightPath Fund supports social and educational projects which are designed to bring positive benefits and to change the lives of people in the communities we serve.
The FlightPath Fund's committee, which includes elected representatives from each of the four local authority areas, meets regularly throughout the year to consider all applications made and to allocate any agreed financial support.
To find out more about applying for funding support, visit: www.glasgowairport.com/community and download the application form and our funding guidelines. The next meeting of the FlightPath Fund will take place on Friday 1 September and applications should be submitted no later than three weeks prior to the meeting.