The FlightPath Fund has awarded £5000 to help a local sea scout group purchase a new safety boat.
Renfrew Town Sea Scout Group applied for support from the FlightPath Fund to help purchase a new power safety boat, which is deployed when the group is taking part in all water-based activities and training.
The FlightPath Fund awarded what was the bulk of the amount needed to purchase the Humber 5.5-metre assault RIB 70 Yamaha four-stroke outboard, which is critical to providing safety cover when the sea scouts are in the water.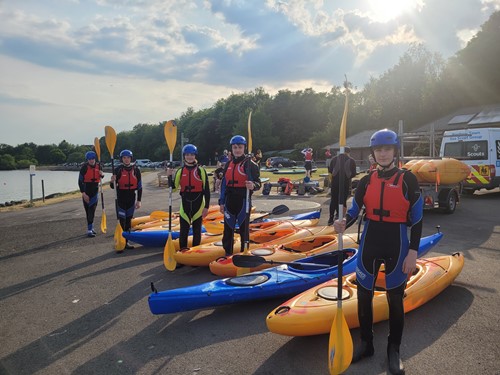 Group Scout Leader Blair Ross said: "The boat is vital to ensuring that we can guarantee the safety of our members whilst they are in the water learning and developing new skills. The previous boat was in need of replacement and the opportunity came up to purchase the new one at a reasonable cost. 
"We would like to thank the FlightPath Fund committee, and Councillor Sam Mullin in particular, for helping with the purchase of our new safety boat. Without this funding we would not have been able to purchase a new craft when we did."
Renfrew Town Sea Scout Group offers water-sport activities to approximately 95 children and young adults aged between five and 25 years from Renfrew and the surrounding area. 
Each Friday night during the summer months, they can be found at various water locations but mainly at Lochwinnoch's Castle Semple Loch, where the group provides activities using its fleet of six dinghies, 12 kayaks, 10 stand-up paddleboards and a safety boat. 

More than £130,000 is being made available by the FlightPath Fund this year to support community groups, charities and sustainability-themed projects local to Glasgow Airport. A total of £79,000 has been awarded so far this year to 42 diverse groups.
The Fund's committee is continuing to urge neighbouring groups and organisations to submit applications and is keen to support sustainability-themed projects aimed at improving the environment in the communities local to the airport.
The FlightPath Fund was established in 2010 to provide financial support to community groups and charities committed to improving the opportunities, facilities and services available to local people. Funding awards will continue to focus on three key areas:
Employment - We recognise the importance of making sure the future workplace is equipped with the skills that society and industry demands and, by supporting specific projects, we aim to help young people in the community reach their full potential. Awards will be given to exciting local projects that can break down barriers to employment through skills development.
Environment - To underpin our commitment to making a positive contribution to the environment, the FlightPath Fund supports projects with a focus on protecting and enhancing our natural environment.
The FlightPath Fund supports social and educational projects which are designed to bring positive benefits and to change the lives of people in the communities we serve.
The FlightPath Fund's committee, which includes elected representatives from each of the four local authority areas, meets regularly throughout the year to consider all applications made and to allocate any agreed financial support.
To find out more about applying for funding support, visit: www.glasgowairport.com/community and download the application form and our funding guidelines. The next meeting of the FlightPath Fund will take place on Friday 1 September and applications should be submitted no later than three weeks prior to the meeting.