This week is Scotland's Climate Week and we wanted to let you know about some of the measures we've put in place at the airport to help support our commitment to decarbonising our operations by the mid-2030s.
We have already made significant progress in addressing our environmental impacts. Since 2018, we have reduced our direct carbon emissions by 52% and in 2020 Glasgow Airport achieved carbon neutrality status.
In 2019 Glasgow became the first airport in the UK to introduce a three-strong fleet of zero-emission buses to its operations. The all-electric battery buses, built in Scotland by Alexander Dennis Limited (ADL), replaced the old diesel fleet used to shuttle passengers between the terminal and our Long-Stay Car Park.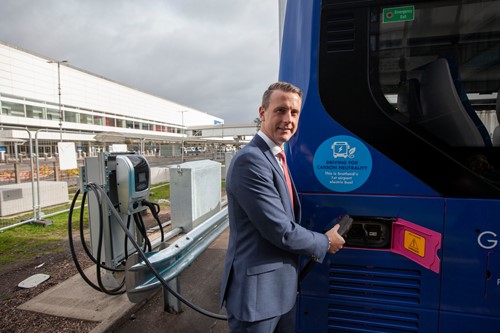 Moving to a full-electric bus operation cut the carbon emissions associated with passenger travel to and from our car park from 143 tonnes per year to zero.
Even when the Long-Stay Car Park was handed over to the UK Government as a Covid-19 testing site and the buses weren't being used, we loaned them out to transport partner McGill's. The bus operator was about to introduce its own fleet of electric vehicles and wanted to trial our buses.  
Glasgow Airport also invested over £200,000 on an eight-strong fleet of petrol/electric plug-in hybrid vehicles to its operations. The Mitsubishi Outlander PHEV 4x4 vehicles are deployed across the airport's security, engineering and airfield operations teams.
The Mitsubishi Outlanders can be plugged-in and recharged from an outlet. This allows them to drive extended distances using just electricity, which has cut CO2 grams per kilometre from 230 to around 41 grams while delivering a much higher miles-per gallon return. The Outlanders can also drive over 30 miles with zero emissions using just electricity.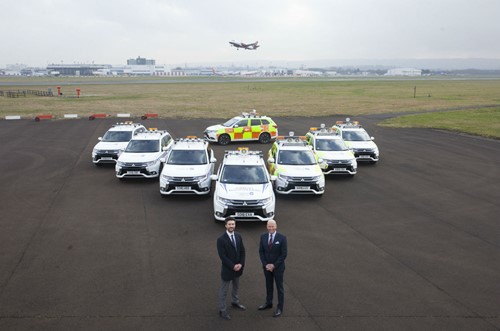 These reductions are further supported by the fact the airport's electricity is also supplied via 100% renewable energy sources.
In June this year AGS launched its Sustainability Strategy, which sets out our commitments against a wide range of material issues including decarbonisation, biodiversity, modern slavery, circular economy, community support and how we will support our people.
How we balance the undisputed social and economic benefits our connectivity delivers with our responsibilities to our people, local communities and the wider environment is a key priority Glasgow Airport and AGS Airports Ltd.