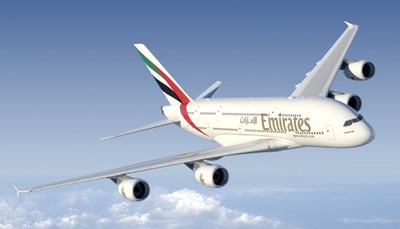 The world's largest commercial passenger aircraft is set to make its return to Glasgow Airport in March.
Emirates' hugely popular daily Dubai service will once again be served by the iconic Airbus A380 from March 26.
The aircraft, which was last in service at Glasgow in September 2019, is being re-introduced due to the increased demand for Emirates' only daily route between Scotland and Dubai.
Standing over 24 metres high and with a wingspan of nearly 80 metres, the A380 has been huge draw when it has operated on the Glasgow Dubai route, which commenced on 10 April 2004.
The Dubai service has been one of the airport's biggest success stories carrying more than 5.5 million passengers across Emirates' global network, which now covers 125 destinations. The airline's decision to introduce its flagship A380 confirms its status as Scotland's largest long-haul airline
This is the third time Glasgow Airport will welcome the A380, which first visited on 10 April 2014 to celebrate Emirates' 10th anniversary. In April 2019 the aircraft also made Scottish aviation history by coming the first A380 to form part of a scheduled service anywhere in Scotland.
Matt Hazelwood, Chief Commercial Officer at AGS Airports Ltd, which owns Glasgow, said: "The decision by Emirates to re-introduce the A380 is tremendous for Glasgow and the West of Scotland and a great way to start 2023.
"Each time this iconic aircraft comes to Glasgow it is a significant moment for Scotland's aviation industry, but this announcement is particularly special and a real endorsement from Emirates as we continue to rebuild the vital connectivity that is so important to the region.
"It is yet another milestone in Glasgow Airport's near 20-year relationship with Emirates and I look forward to welcoming back this tremendous aircraft in March."
The A380 will offer passengers 14 Private Suites in First Class, 76 fully flat-bed seats in Business Class and 427 seats in Economy Class. Flight EK027 will depart Dubai at 07.50 and arrive in Glasgow at 12.45, with EK028 taking off for Dubai at 14.35 from Sunday 26 March arriving 01.05.
With Emirates' famed chauffeur service and the airline's stunning lounge already in place at Glasgow, the return of the airline's flagship A380 aircraft to the daily service will be popular with passengers.
The Emirates A380 is loved by customers for its spacious and comfortable cabins, quietness, and unique features such as the Onboard Lounge and First-Class shower spa. Customers can also enjoy award-winning inflight entertainment on ice with more than 5,000 channels of on-demand entertainment via the industry's largest screens across all cabins and award-winning multi-course dining in Economy class.
The aircraft will once again be serviced using Scotland's only triple air-bridge, which was installed as part of a wider £8-million investment.
Richard Jewsbury, Divisional Vice President, Emirates UK, said: "We are delighted to be reintroducing the A380 at Glasgow as appetite for international travel grows stronger this year. The A380 is an iconic aircraft and it's fantastic that we will be able to welcome even more passengers back on services in Glasgow, connecting to our growing global network.
"Glasgow is a key hub for Emirates in the UK as we continue to scale up operations. As well as passengers this new service also signals a scaling up of our cargo capacity, which will provide much-needed capacity for all manner of businesses in Scotland that rely on swift global logistics."
Tickets can be booked on emirates.com, Emirates Sales Office or via travel agents.