Today, Transavia inaugurated its Glasgow – Paris route. With this new route, the low-fares airline, part of the Air France-KLM Group, will offer Scottish customers the perfect opportunity to discover the French capital city this summer, flying into the conveniently and centrally located Orly airport.  
The route will provide leisure and business travellers the opportunity to reach the City of Love quickly and affordably, with flight time just 1 hour 45 minutes from Glasgow; perfect for romantic breaks, family holidays and reconnecting with business partners.
At Glasgow airport, the crew was able to celebrate this event during the traditional ribbon-cutting ceremony.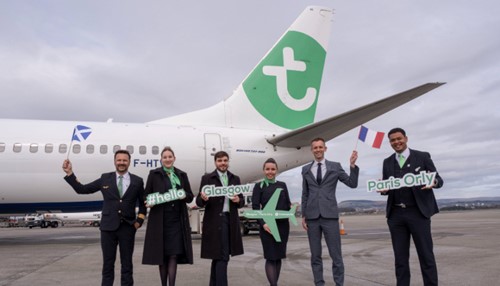 Christopher Tibbett, Group Head of Airline Relations and Marketing, said: "We were really pleased to be able to give a warm Scottish welcome to our new airline partner Transavia today.
"The Paris Orly route will be a popular service with Scottish passengers keen to visit one of the world's most exciting and captivating cities. Equally, we hope our French cousins will also take the opportunity to visit Glasgow to uncover all it has to offer and take advantage of the city's position as a gateway to Scotland."
We are delighted to inaugurate this new route from Scotland. From now on, our Scottish customers can book their holidays to Paris. This new service will allow travellers to enjoy their vacations in the French capital while at the same time benefit from a quality low-cost offer. "said Nicolas Hénin, Chief Commercial Officer of Transavia France.
This summer, Transavia will operate two flights per week (on Mondays and Fridays) between Glasgow and Paris-Orly airports, starting from just €44 (including tax) one way.
Tickets are available for purchase at www.transavia.com.
Thanks to Travel Insurance, Covid-19 coverage is included in all insurance packages offered at the time of booking tickets on Transavia, so that passengers can travel with peace of mind.