Glasgow Airport's FlightPath Fund has awarded £1000 to support the work of Breastfeeding Support Scotland.
The funds awarded will be used by the Milngavie-based community group to help train four of its current volunteers to become breastfeeding counsellors and gain Protecting Vulnerable Group (PVG) scheme membership. Part of the award will also help the group to introduce antenatal breastfeeding information sessions later this year.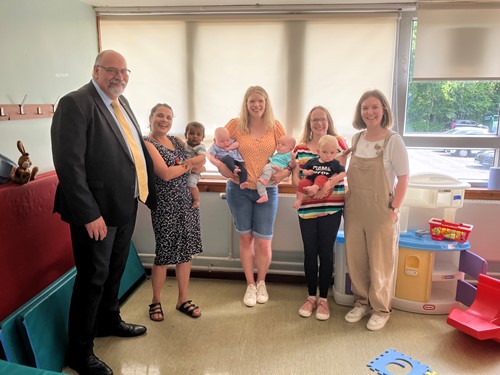 Councillor Calum Smith, who represents East Dunbartonshire Council on the FlightPath Fund, said: "Being able to access a group such as this where parents can meet, share their experiences, and receive support in navigating the early challenges that breastfeeding can bring is invaluable, particularly for new mums and dads.
"Groups such as this couldn't meet face-to-face during the pandemic, so it was great to see that Breastfeeding Support Scotland in Milngavie was one of the first to restart in-person sessions and is now looking to expand its important services further."
Breastfeeding Support Scotland runs a weekly support group in Milngavie Library each Monday for up to 30 local parents and their children. The group allows parents to meet, chat and get advice for any issues they are experiencing regarding nursing their children. It is completely free for families to attend and is staffed and organised by volunteers, with a minimum of two present at each session.
Gillian Kelly, from Breastfeeding Support Scotland, said: "We are so grateful to the FlightPath Fund for helping us to expand the group further. With this support we have been able to train additional peer supporters, offer further development to our existing volunteers and start a lending library for our parents and attendees.
"The funding has allowed us to put plans in place for a course specifically designed for expectant parents to help prepare for the early days and weeks of breastfeeding. 
"Whether parents attend with a tiny baby, and specific issues, or whether they come back week after week for friendship and solidarity; the importance of being able to offer skilled face-to-face feeding support cannot be underestimated. Thank you for helping us make a difference for all the families who attend each week."

Over £90,000 has been made available in 2022 to help support groups and projects within the communities local to the airport.
A total of 39 groups, clubs and charities from a diverse range of areas have benefitted so far this year to the tune of £52,000 and the FlightPath Fund's committee is urging more to come forward to apply for support.
Since 2011, the FlightPath Fund has awarded more than £1.7million to over 700 clubs, groups and community organisations.
The FlightPath Fund's committee, which includes elected representatives from each of the four local authorities bordering Glasgow Airport, meets regularly throughout the year to consider all applications made and to allocate any agreed financial support.
The FlightPath Fund's Committee is keen to hear from and support sustainability-themed projects aimed at improving the environment in the communities local to the airport.
The next meeting is on September 16 and applications must be submitted no later than three weeks prior to the meeting.
To find out more about applying for funding support, visit: Flightpath Fund and download the application form and our funding guidelines.