An established technology brand, Dixons Travel showcases the latest technology at online beating prices suited to every type of travellers' needs.
At Dixons Travel, you'll always find the latest technology hand picked for the traveller, from cutting edge laptops to fashion inspired headphones.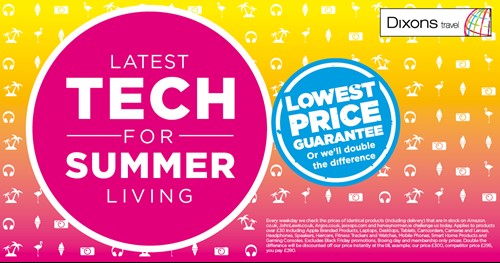 Double the difference if you find it cheaper
Every weekday we check the prices of identical products (including delivery) that are in stock on Amazon.co.uk, JohnLewis.co.uk, Argos.co.uk, and Jessops.com challenge us today. Applies to products over £30 including Apple Branded Products, Laptops, Desktops, Tablets, Camcorders, Cameras and Lenses, Headphones, Speakers, Haircare, Fitness Trackers and Watches, Mobile Phones, Smart Home Products and Gaming Consoles. Excludes Black Friday promotions, Boxing Day, membership only prices and third-party sellers. Double the difference will be discounted off our price instantly at the till, example; our price £300 (€300), competitor price £295 (€295), you pay £290 (€290). Excludes Apple Airpods.
Ways to Shop 
Reserve before you fly and collect in-store on your way through.  You can even shop now and we'll deliver to your door.
For passengers looking for refunds, please contact the store directly.
Shop & Collect
Don't miss out on the internet beating prices if you can't carry all your purchases, simply opt for the free Shop & Collect service and pick them up when you return to Glasgow Airport, 24 hours a day.