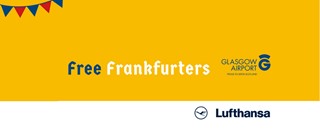 We're celebrating the launch of our new route to Frankfurt with Lufthansa by giving away FREE Frankfurters in George Square between 12 and 2:30pm this Thursday!
Daily flights to Frankfurt start on the 26th March and give you the option to connect to over 400 destinations across the globe. There are also 5 flights per week to Munich with Lufthansa during the summer...so what are you waiting for?
Pop down during your lunch break, grab a Frankfurter, once they're gone, they're gone!