A Drumchapel-based Scout group is cooking up a storm thanks to a £2500 award from Glasgow Airport's FlightPath Fund.
The 204th Glasgow Scout Group made an application to the Fund to install a new kitchen in their hall as the previous one was in a state of disrepair and not fit for purpose.
While the new kitchen will help the Scouts, Cubs and Beavers learn new cooking skills and prepare them for competitions, it will also benefit a number of local groups which use the hall based in Golf Drive, Old Drumchapel. With the new kitchen installed, the aim is to provide a community hub where local groups can meet.
The Scout group's Secretary, Gerry Durkin, said: "We are incredibly grateful to the FlightPath Fund for making this considerable award available.
"The hall was built in the 1960s and although the kitchen been replaced on a few occasions over the decades, it has been a piecemeal job. Now we have a modern kitchen in place to support the group's work and hopefully its installation will encourage other local groups to use our fantastic facilities."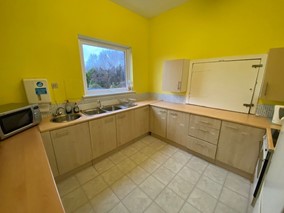 The 204th Glasgow Scout Group has been in the community since 1959 and thousands of young people have passed through its doors, learning new skills such as teamwork, self- reliance and confidence as well as taking part in the multitude of outdoor activities offered to young people in the area.
More than £90,000 is being made available by the FlightPath in 2022 and the Fund's Committee is continuing to urge neighbouring groups and organisations to submit applications.
The FlightPath Fund's Committee is keen to hear from and support sustainability-themed projects aimed at improving the environment in the communities local to the airport.
The FlightPath Fund's committee, which includes elected representatives from each of the four local authority areas, meets on regularly throughout the year to consider all applications made and to allocate any agreed financial support.
The next meeting is on September 16 and applications must be submitted no later than three weeks prior to the meeting. To find out more about applying for funding support, visit: www.glasgowairport.com/community and download the application form and our funding guidelines.