The FlightPath Fund today (Thursday 30 September) takes off once again to deliver £70,000 to support community groups, charities and sustainability-themed projects local to Glasgow Airport.
The Fund's committee is urging neighbouring groups and organisations to submit applications and is also keen to support sustainability-themed projects aimed at improving the environment in the communities local to the airport.
Just over £70,000 is being made available to projects and groups of all sizes based in each of the four local authority areas supported by Glasgow Airport's FlightPath Fund – Renfrewshire, Glasgow, East Dunbartonshire and West Dunbartonshire.  

The FlightPath Fund was established in 2010 to provide financial support to community groups and charities that are committed to improving the opportunities, facilities and services available to local people. Funding awards will continue to focus on three key areas:
Employment - We recognise the importance of making sure the future workplace is equipped with the skills that society and industry demands and, by supporting specific projects, we aim to help young people in the community reach their full potential. Awards will be given to exciting local projects that can break down barriers to employment through skills development.
Environment - To underpin our commitment to making a positive contribution to the environment, the FlightPath Fund supports projects with a focus on protecting and enhancing our natural environment.
The FlightPath Fund supports social and educational projects which are designed to bring positive benefits and to change the lives of people in the communities we serve.
Chair of the FlightPath Fund Archie Hunter said: "It is great to see a return of the FlightPath Fund which, since its inception 11 years ago, has delivered more than £1.6m in support to over 600 local clubs, groups, charities and projects.
"The aviation sector has been one of the hardest hit by the pandemic during the last 18 months and Glasgow Airport deserves a lot of credit for ensuring that the local communities it serves are included in its recovery plans.
"The eyes of the world will be on Glasgow and Scotland when the COP26 global climate summit gets underway on Sunday 31 October.
"Since 2011, the FlightPath Fund has supported a number of environmentally-focused projects and organisations including the tremendous Flying Fish project run by the Clyde River Foundation charity. With Fund support totalling more than £40,000, this project has helped over 2300 pupils across 95 primary six classes in 58 local schools learn about the biodiversity of their local waterways and rivers.  
"We want to hear from local groups and organisations that are making a positive contribution to the environment or need financial help to kick-start a sustainability-themed project, as supporting the environment remains a core value of the FlightPath Fund."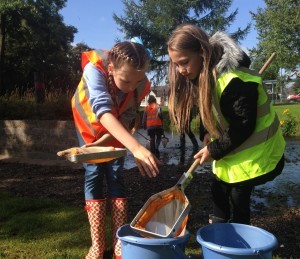 Glasgow Airport's Sustainability Assurance Manager Kirsty Webster will advise the FlightPath Fund's committee this year to help identify award submissions that best demonstrate a positive environmental impact.
Ronald Leitch, Operations Director at Glasgow Airport, said: "The FlightPath Fund has been a force for good since it was set up back in 2010 and I've seen for myself the benefits it brings to our local communities through a variety of worthwhile causes.  
"The financial support delivered by the Fund has helped a diverse range of organisations – from sports clubs and disability groups to educational programmes and environmental projects - improve the lives of thousands of people across our neighbouring communities.
"Everyone at Glasgow Airport is incredibly proud of the fantastic work carried out by the FlightPath Fund and we are thrilled to see its return."
The FlightPath Fund's committee, which includes elected representatives from each of the four local authority areas, will meet on Thursday 11 November during COP26 to consider all applications made and to allocate any agreed financial support.
Application forms can be downloaded by visiting the dedicated FlightPath Fund page here and returned via email only to flightpath@glasgowairport.com. The closing date for applications is Friday 29 October.