Route officially opened on day airport receives Cycle Friendly Employer Award from Cycling Scotland  
Member of the Scottish Parliament for Renfrewshire North and West Derek Mackay officially opened Glasgow Airport's £280,000 route on the same day the transport hub was presented with Cycling Scotland's Cycle Friendly Employer Award. 
The route was developed and delivered in a partnership between Glasgow Airport and Renfrewshire Council, with funding support from the Scottish Government through Sustrans Scotland's Community Links grant programme.
Now complete the project includes a new and improved 2.5km route through the airport campus, which links Inchinnan Road with Barnsford Road and provides connectivity support to City Deal proposals for the Glasgow Airport Investment Area including walking and cycling routes. 
> Find out more about Cycling to Glasgow Airport
The route also compliments Renfrewshire Council's proposals to connect Barnsford Road to Bishopton and plays a key role in connecting elements of Renfrewshire Council's ambitious cycling proposals contained within the authority's own cycling strategy.  
A key element of the project, which also includes new post, ground and bollard wayfinding signage, was the surfacing of a 1.5km section of the cycling route through the Paisley Moss nature reserve that runs adjacent to the airport's runway.  This section has been upgraded from a muddy path to a cycling-standard bound surface providing fantastic views of the airfield users can enjoy all year round. 
During the official opening, representatives from Glasgow Airport received the Cycle Friendly Employer Award from Cycling Scotland's Development Officer, Caroline Hammond. This nationally-recognised award acknowledges an employer's commitment to encourage and facilitate healthy and sustainable access to work, ensuring appropriate safe access routes, cycle parking, changing facilities and promotion.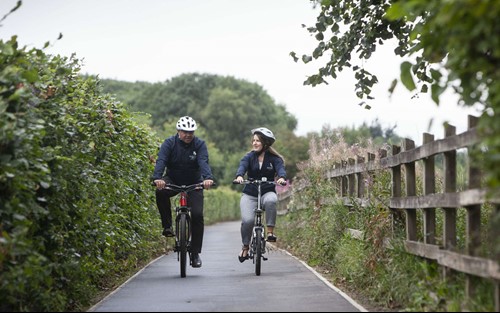 Mark Johnston, Glasgow Airport Managing Director, said: "As one of the largest employers in the Renfrewshire area, it is important that we provide the near-5000 people who work at the airport with attractive, sustainable transport options. 
"Almost 50% of the people who work across the campus live within a four-mile radius of the airport, while more than 25% live within two miles. Providing a sustainable and healthy surface access alternative to encourage people to swap four wheels in favour of two makes sense and we are seeing the benefits already with a steady increase in the number of airport staff cycling to work since the route was developed. Our cycle parking bays are always busy and I see more staff and members of the public walking and cycling the route on a daily basis. 
"We are continuing to invest in and promote our cycling infrastructure to encourage even more staff to travel to work using sustainable means.  The opening of the route itself, promotion of cycling activities and provision of cycle parking bays has culminated in the award of Cycle Friendly Employer Award from Cycling Scotland, which we feel is incredibly important for any major employer." 
Encouraging modal shift to more sustainable forms of travel for both passengers and staff is a key component of Glasgow Airport's forthcoming Surface Access Strategy. 
The cycling route project will also considerably improve connectivity and sustainable surface accessibility for the planned Glasgow Airport Investment Area, which has the potential to become a powerhouse of economic growth for Renfrewshire and the Glasgow City Region and will house the National Manufacturing Institute for Scotland. 
Renfrewshire North & West MSP Derek Mackay said: "I am delighted to have been asked to perform the official opening and also congratulate the Airport on their Cycle Friendly Employer Award. 
"The Scottish Government is committed to building an Active Nation and have doubled the level of investment in walking and cycling to £80 million. Providing the infrastructure and increasing changes in behaviour is the biggest part of that aim. 
"Facilities such as this one will help those who want to leave the car at home and walk or cycle to work with the infrastructure to do so." 
Dave Keane, Community Links Manager for Sustrans Scotland said, "We are extremely pleased to have had the opportunity to work with Glasgow Airport and Renfrewshire Council on developing this upgraded sustainable transport link. Together with the wider improvements being made throughout the local area, this gives staff and visitors to the airport a reliable active travel route and a great reason to walk or cycle rather than taking the car."
Katharine Brough, Head of Behaviour Change from Cycling Scotland, said: "Cycling Scotland has worked with Glasgow Airport over the last 18 months and is delighted to award them with Cycle Friendly Employer status for their efforts to promote and increase cycling.  The changes they've made are making it easier and more appealing for almost 5,000 staff and more visitors to choose a healthy, affordable way to travel.  The consequent impact on congestion and local air quality also has huge benefits for the wider community."