Travel retailers, airports and airlines have joined forces to unveil a summer passenger awareness campaign to encourage people to fly responsibly.
The 'One Too Many' campaign was launched today by the Aviation Minister, Baroness Sugg.
It reminds passengers of the costs of drinking to excess when travelling by air.
These include the risks of being denied boarding, having a plane diverted and the associated costs which include heavy fines, up to two  years' prison, an airline ban and a diversion fee up to £80,000 for the most serious in-flight incidents.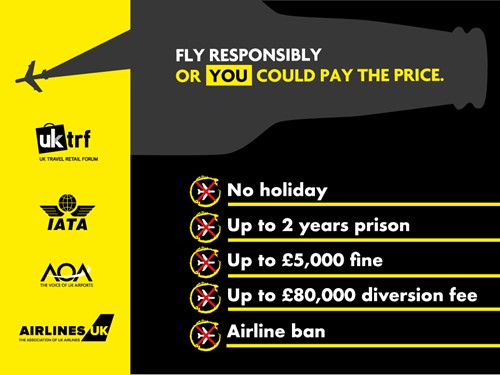 The campaign will be rolled out via a national Facebook and Instagram social media campaign and in ten pilot airports across the UK.
Building on the UK Aviation Industry Code of Practice on Disruptive Passengers, the campaign is the first of its kind to bring the UK Travel Retail Forum (UKTRF), the Airports Operators Association (AOA), the International Air Transport Association (IATA) and Airlines UK (AUK) together.
Participating airports including Manchester Airport Group, AGS Airports, Bristol, Birmingham, Newcastle and Gatwick will work with airlines and other airport stakeholders to promote the campaign across digital screen signage, POS display, F&B retailer notices and through a dedicated police leaflet.
Launching the campaign, Francois Bourienne, Chair of the UK Travel Retail Forum said:
"It is an offence to be drunk on a plane. Not least to other passengers. The One Too Many campaign is to remind people of the consequences of irresponsible drinking at any stage of their journey and to highlight the fact that, while serious disruptive behaviour remains rare, it can be costly and cause delays. Other passengers become upset and a lot of holidays are ruined".
"The UKTRF, IATA, AOA and Airlines UK are committed to tackling the issue of disruptive passengers and to working together to ensure that passengers are aware that this behaviour will not be tolerated.
"The campaign complements existing individual airport initiatives being used by airlines, airports, bar and pub operators and retailers - bringing it all under the one banner for the first time as we enter the busy holiday season."
Rafael Schvartzman, Regional Vice President, Europe, IATA, said:
"While we should remember that disruptive passenger incidents are still relatively rare, they rank in the top three concerns of cabin crew, and any incident is one too many. Airlines have a zero-tolerance approach to unruly behaviour and cabin crew and passengers have a right to a flight free from disturbance and harassment. We are proud to partner with UKTRF, AOA and Airlines UK on this campaign to remind passengers to fly responsibly. The party should be at the destination, not on the plane."
 Aviation Minister, Baroness Sugg, added:
"Disruptive passengers have the potential to ruin other people's flights, and this campaign is an important new step to ensure all passengers are aware of the consequences they face if they behave disruptively after drinking before or on board a flight.

"I am pleased to see the industry come together to ensure the experiences at our airports and on flights remain positive for everyone."