Air Transat, the 2019 Skytrax World's Best Leisure Airline, has today welcomed its new A321neoLR aircraft to Glasgow Airport for the first time.
The state-of-the-art aircraft, which arrived at Glasgow Airport from Toronto Pearson Airport at this morning, will enter regular operation on Air Transat's services from Glasgow Airport this winter.
Aligned with Air Transat's commitment to sustainable tourism, the  A321neoLR consumes over 15 percent less fuel, generates 50 percent less noise in the cabin and communities, produces about 5,000 fewer tonnes of CO2 a year and lowers NOX emissions by 50% when compared to previous generation Airbus aircraft.  
Passengers travelling in Economy Class will enjoy more personal space with wider seats and improved comfort with natural leather seats and state-of-the-art in-seat entertainment systems with 10-inch individual touch screens and USB ports to charge personal electronic devices. 
In the newly re-designed 12-seat Club Class cabin, passengers will benefit from personalised service, gourmet meals, natural leather seats with a leg rest for maximum comfort and wider 13-inch touch screens. 
The news follows yesterday's announcement that Air Transat is increasing its capacity on its route from Glasgow to Toronto for Summer 2020 with an A330 service operating five times weekly.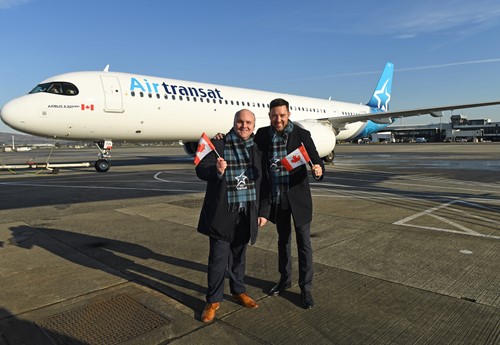 Adrian Keating, Commercial Director UK and Ireland at Air Transat, comments: "We're delighted that our valued customers in Scotland are now able to experience our state-of-the-art A321neoLR aircraft on our routes from Glasgow Airport. 
"As the World's Best Leisure Airline, we pride ourselves on setting the standard for holidays to Canada and with this new addition to our fleet which also includes the A330 aircraft from Glasgow, your holiday really does start the minute you get on board."
Steven Marshall, Head of Airline Marketing and Development at Glasgow Airport, said: "Everyone at Glasgow Airport is thrilled to welcome the first-ever scheduled commercial flight in Scotland for the Airbus A321neoLR aircraft.
"Air Transat's decision to operate this revolutionary aircraft, which brings with it significant environmental and operational benefits as well as enhanced passenger comfort, underlines the continued commitment of the airline and wider aviation industry to operate both efficiently and sustainably.
"The introduction of this stunning aircraft is also timely given that Air Transat's hugely popular Toronto route will double in frequency this winter. The introduction of a second weekly flight will offer our passengers even more choice, flexibility and onward connectivity across Canada."