The Air Canada rouge experience is designed with the care your vacation deserves, from charming service and good prices to reliability, comfort and rewards. So whether it's an impromptu long weekend or a weeklong escape… your vacation will start the moment you step on board.
Quick Links
Air Canada Rouge Destinations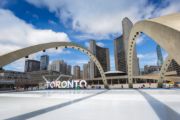 Air Canada Rouge Glasgow Airport
Airport Services and Facilities
Check out the services and facilities available at Glasgow Airport before your Air Canada Rouge flight
Learn More
Book Airport Parking
Book your airport parking online in advance to save both time and money before your Air Canada Rouge flight
Book Now
Coronavirus Testing
Book your Rapid Antigen or PCR Test online before your Air Canada Rouge flight
Learn More
Cabin Baggage
Air Canada Rouge Baggage Allowances
Regardless of your destination, you can bring 1 standard article + 1 personal article:
Standard article: 55cm x 23cm x 40cm
Personal article: 33cm x 16cm x 43cm
If you're traveling with an infant on your lap, you can bring 1 additional standard article for your child's belongings.
Important: All carry-on baggage rules are strictly enforced. All bags that do not respect maximum sizes will need to be checked, and additional checked baggage charges may apply.
Learn More
Contact the Handling Agent
Lost Something Onboard?
Swissport
Tel: 07834 750 567 (6am-9pm)
Tel: 0141 848 4358 (9pm-6am)
Email Swissport
Need to get in touch with Air Canada Rouge?
Contact Air Canada Rouge
Contact: 00 800 669 92222 - This is a toll-free number to North America. Please ensure that you dial the number exactly as shown (including the 00 prefix) and that international dialling is enabled on your landline or mobile telephone.
International Code: RV
Departs From: Terminal 1