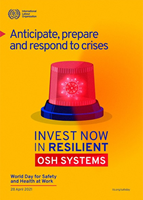 The health and safety of our people is at the very core of the culture of AGS Airports Ltd.
It is the bedrock of our entire operation and must be when you consider the complexities and skills involved in making sure an airport functions, that thousands of people transit through our terminals each day without incident, and hundreds of flights can safely take to the skies.
Airports are like towns. They directly and indirectly employ thousands of people from hundreds of companies across a diverse range of professions from pilots to security staff and ground handlers to retailers.
While it's a given that each person must be proficient in their own role, there's a collective responsibility which is central to our purpose – to work together to always keep ourselves, our colleagues and our passengers safe.
The current pandemic may have effectively grounded the vast majority of flights globally, but our airports at Aberdeen, Glasgow and Southampton have remained open to support services such as lifeline routes between the mainland and the Scottish and Channel Islands, vital hub connectivity used by key workers, and air ambulance, freight and military flights.
Whether we are supporting hundreds of flights each day or just a handful, the need to ensure the health, safety and wellbeing of our people is always constant.
COVID-19 has brought about unprecedented challenges for our management teams and the Group's workforce, particularly given a large amount of our people were working from home or on furlough. At the same time, those staff who had to physically be onsite at the airport needed to carry out their duties in a COVID-safe environment to ensure our operations always remained resilient.
The learning curve for everyone was huge, but we quickly adapted in both the mental and physical sense. Within the airport, a series of COVID-19-safe measures were put in place in the early stages of the pandemic to protect our staff and passengers. Those who worked from home – and many still do - were provided with the correct equipment, while assessments were carried out so they could operate in a healthy and safe way.
The biggest piece of work came in ensuring that our staff – many of whom were displaced from their normal working environment and pattern – continued to feel connected to the business and their colleagues at a time of continual and prolonged uncertainty. 
Supporting their health and wellbeing was paramount and AGS Airports Ltd introduced measures to ensure they didn't feel isolated. These included bi-weekly broadcast updates from the Group's CEO Derek Provan, Q&A sessions and a newsletter published three-days per week which included everything from COVID-19 and business updates to information on staff benefits and support schemes.
We carried out staff surveys in a number of areas such as wellbeing, future agile working needs and ways we could work better as a Group. Remote learning programmes were introduced to ensure our people could keep their skills current, while experts were also brought in to lead physical and mental wellbeing workshops which proved very popular with staff.
We have a five-year health, safety and wellbeing strategy in place, which is signed off by our board each year and is designed to drive continual improvement in every area.
This commitment has seen AGS Airports Ltd receive recognition from several national and international health and safety bodies including the British Safety Council and NHS Healthy Working Lives.
The road ahead for the industry remains unclear at this stage and aviation is likely to be one of the last to recover from the pandemic. Despite this, AGS Airports Ltd has worked hard to ensure that its people were provided with the support they need through a challenging period like no other and that they are ready to welcome back our passengers once again when the safe return of aviation beings in the weeks and months ahead.
While we are delighted to celebrate and support World Day for Safety and Health at Work 2021, we always strive to ensure that our three airports are healthy and safe places to work at or travel through every day.
By Gillies Crichton, Group Head of Assurance, AGS Airports Ltd