Shop & Collect - Currently unavailable due to Coronavirus
Shop & Collect is a free service at Glasgow Airport that lets you shop without the hassle of bringing everything on board. Buy before you fly, then pick up your purchases on your return. Simple.
Available to passengers flying within the European Union (including domestic flights within the UK), the dedicated Glasgow Airport Shop & Collect service will store your goods securely and insure them whilst you are away.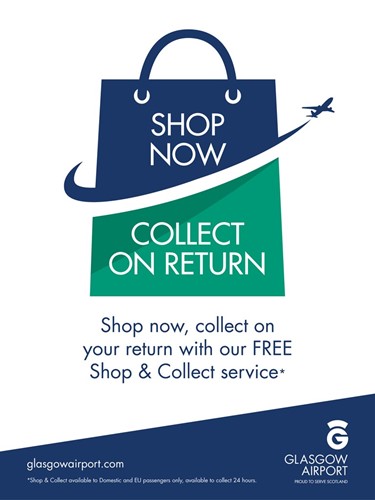 When you return to Glasgow Airport your items will be ready to pick at our convenient collection point, after you have claimed your luggage and cleared customs.
To use the free service, simply tell the assistant in-store that you would like to Shop & Collect, give them your details and they will take care of the rest for you. Don't feel you have to stop after the first shop - this convenient service means you can shop in all stores meaning you don't have to carry anything.
Perfect for buying fragile or heavy items, Shop & Collect lets you take advantage of time-limited special offers, exclusive to Glasgow Airport. In addition, it's a great way to get around the current restrictions on carrying liquids on your return flight.
So why take advantage of the great airport prices and go for that extra fragrance, a bottle of gin or pick up a pair of latest trainers?
The Glasgow Airport Shop & Collect Shopping Collection point is located after you've claimed your luggage and cleared customs
Prefer to do your shopping in advance? Try our Reserve & Collect service.

*Shop & Collect available to Domestic and EU passengers only, available to collect 24 hours.