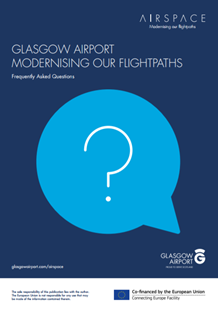 What are you consulting on?
We are proposing to make some changes to the arrival and departure routes for aircraft
flying to and from Glasgow Airport. This will enable us to better manage the airspace
around the Airport without compromising the safety of aircraft which will be able to operate
smoother and more efficient arrival and departure routes. An essential part of the
process of making these changes is consultation with both the aviation industry
and those organisations and people on the ground who may be affected by the changes.


How will the Airspace change proposal affect me?
Most of the proposed routes will follow a different track to that which is published today and a few aircraft will be seen in parts of the local airspace where they do not appear routinely today. Our consultation documents explain, as simply as possible, how each route will change and provide a comparison of where the aircraft fly today against where they will fly under the new procedures. Please note that the initial routes immediately after an aircraft departs or immediately before an aircraft arrives on a runway is not expected to change. We are looking to gather as much local information as possible to help ensure that stakeholders views are given due consideration. This is your opportunity to feedback either your support or observations and comment about the proposed changes.
Is this just to enable the Airport to grow faster?
No, although these routes will facilitate growth at Glasgow Airport. We need to modernise our procedures as the means by which the existing procedures are used (the VOR) will no longer be available. It would be wrong for our new procedures not to accommodate the potential of future growth but this is not the driving force.
Have you made changes already?
No. There have been no changes to the arrival or departure flight paths at Glasgow Airport. We need to modernise our procedures as the means by which the existing procedures are used (the VOR) will no longer be available. It would be wrong for our new procedures not to accommodate the potential of future growth but this is not the driving force.
Why do I see aircraft away from the published routes?
There are many factors that can affect the position of an aircraft in the sky and cause deviations from the standard published routes. These include amongst others; weather conditions, operational efficiency and safety considerations. The existing routes were built around the legacy array of ground-based navigational aids which were established primarily to serve the needs of aircraft in transit at higher altitudes. Given the proximity of the mountainous and hilly terrain of Scotland, the flight procedures developed for Glasgow were not the most optimal or efficient and for this reason many aircraft today seek radar vectors from controllers or take up their own navigation to assume a more direct or efficient routing after compliance with the Noise Abatement Procedures. You can read more about the current published arrival and departure procedures within our consultation material.
What are SIDS?
Standard Instrument Departures (SIDs) are routes that link an airport to the upper airspace network. SIDs have to be designed in a specific manner to meet stringent international standards. SIDs are normally designed to a certain navigational accuracy and as such are repeatable. These departure routes are repeatable and act as a standard clearance to a pilot which reduces the length of radio transmissions as the departure instructions do not have to be described in detail.
Why is there a need for airspace change? Why do the Glasgow Airport SIDs need replacing now?
The existing SIDs depend upon a ground-based navigational facility (the Glasgow "GOW" Doppler VHF Omni-Directional Radio Range (DVOR)) which is being removed as part of a national rationalisation program in accordance with current CAA Future Airspace Strategy (FAS) Policy. The current SIDs use this facility to navigate, it is, therefore, necessary to replace these procedures with ones that do not rely
on ground-based aids but instead use an array of space-based (satellite) facilities. In adapting to newer technology Glasgow Airport will help minimise the amount of time planes queue, both in the air and on the ground, limiting overall emissions and helping to improve flight punctuality. Additionally, we are seeking to limit and where possible reduce the total adverse effects of noise on people. As well as the environmental benefits, which will be measured against CAA and Department for Transport criteria, this will also create the foundation for sustainable growth as we connect to more destinations and attract more investment and visitors.
Why not simply replicate the existing Glasgow Airport SIDS?
As stated above, the opportunity is there to make changes that will improve the existing airspace. Considering the existing airspace was designed many years ago, it has served its purpose. New technologies and improved methodologies allow us to adapt and design improvement now and for future use. Where an existing SID has proved beneficial to the environment and operations, replication with slight modifications have been proposed.
The current procedures are historic and were designed to meet the needs of a different generation of aircraft. Different procedure design regulations apply today from those that were in place when the existing procedures were created. Although it is not easy to entirely replicate conventional procedures with RNAV procedures, it is possible to create procedures that are roughly similar. In this case however, replicating that which exists today is not necessarily the appropriate choice. In this case however, replicating that which exists today is not necessarily the appropriate choice. The procedures that are designed today need to be able to deliver the aircraft to the airways in the most efficient manner now whilst being able to cope with the demands of tomorrow. As the demand for air travel continues to grow, the airspace that facilitates the safe and efficient flow of air traffic needs to be optimised and that is what Glasgow, in conjunction with NATS Scottish Area Control Centre at Prestwick, aims to do. In so doing, it hopes to reduce emissions by minimising the number of miles the aircraft must fly to get from the runway to the airway system and through a reduction in the holding time on the ground.
How were these routes developed?
The development of the proposed routes involved careful consideration of a number of factors, not least consideration of the total adverse effects of noise. The proposed routes have, where possible, been designed to reduce those affected by noise however, as always, there is an overriding requirement to meet safety critical regulations that cannot be compromised. The desired routings of the airline operators and how they link with the overlying Route Network were also key considerations as one of the drivers for change was the optimisation of the departure routes to ensure they are operationally efficient. These departure routes must, however, remain compatible with the overlying Route Network.
Where are the new routes? Can you show the current flight paths and the proposed ones so I can compare?
The proposed routes are compared with the existing routes in our consultation document which can be downloaded from our website. The diagrams and explanation in the consultation document will enable you to make a comparison of how the proposed changes might affect your locality.
What is the future airspace strategy (FAS) all about?
Aviation relies on the scarce resource of airspace to ensure that passengers, businesses, the military, leisure flyers and the UK economy as a whole, enjoy the many benefits that aviation brings. The basic structure of the UK's airspace was developed over fifty years ago. Since then there have been huge changes, including a hundredfold increase in demand for aviation. Internationally there is a move to simplify and harmonise the way airspace and air traffic control is used. Europe is driving this initiative through the Single European Sky project (SESAR). In the UK and Ireland, these and other issues are being met through the Future Airspace Strategy (FAS) which sets out a plan to modernise airspace by 2020 and aligns to the international concept including SESAR.
FAS is an aviation industry and government initiative to improve the efficiency of airspace and ensure that all parties are prepared for the legislative requirements to modernise. The benefits of implementing FAS include efficiencies that enable fuel savings, time savings, reductions in CO2
What is RNAV?
A form of Performance Based Navigation (PBN), aRea Navigation (RNAV) is a method of navigation that allows an aircraft to use its sophisticated onboard navigation systems to fly along a flight path which is not aligned directly between ground-based navigation beacons. Instead of zig-zagging across the countryside, aircraft can fly more direct routes. This more efficient navigational means can reduce flight distance, reduce congestion and allow flights into airports without beacons. The aim of our proposal is to make Glasgow Airport's routes compatible with the latest navigation technology available. Many other UK airports are in the process of introducing RNAV routes whilst some already have them in place.
What is GNSS?
GNSS stands for Global Navigation Satellite System. The most commonly known system is Global Positioning System, otherwise known as 'GPS'. RNAV (GNSS) indicates that a satellite-based system must be used by aircraft navigation systems instead of using traditional ground based radio aids.
What happens to the existing noise abatement procedures?
The Noise Abatement Procedures currently in place at Glasgow Airport will by definition need to change as a consequence of this proposal, however, we remain committed to the effective management of aviation noise. Our Noise Action Plan is also being consulted upon and this can be accessed on our website.
What is consulation?
Consultation for proposed airspace changes is intended to gather feedback from organisations and groups (stakeholders) that could be affected by the proposal. Our consultation will be carried out in accordance with government recommended best practices. Before our proposal is submitted, we are conducting comprehensive engagement, lasting 13 weeks, with both the aviation stakeholders and those organisations representing people on the ground who may be affected by the changes proposed. Anyone is welcome to respond to the formal consultation, including members of the public. All feedback
from both aviation and non-aviation stakeholders, including the general public, will be considered and if appropriate or necessary used to modify the proposed designs where appropriate.
Why does the consultation not include flights over 7,000ft?
The Department for Transport considers that flights above 7000ft Above Ground Level (AGL) are above a height beyond which the impact of overflights is less severe for those on the ground below. Government guidelines stipulate that for routes above 7000ft the emphasis should instead be on minimizing the environmental impact caused by CO2 emissions. Consultation with stakeholders on the ground is not required for routes changes above 7000ft AGL.
How often do aircraft conduct missed approach procedures at Glasgow Airport?
As we have pointed out in Part 4 of our Consultation Document, the eventuality of a Missed Approach Procedure (MAP) is a relatively rare occurrence as it is usually the result of abnormal situations such as an unstable approach or the runway being made unavailable due to a vital inspection of the runway being undertaken (to ensure no debris is present). Most approaches are completed successfully to a safe landing. However, if required, the MAP represents a safe means of operation when an instrument approach cannot be completed successfully. The statistics from 2017 support this as they indicate that this occurred on average 10 times per month.
Is this going to mean more flights? Will this lead to an increase in noise?
This consultation is about how we modernise the existing routes to achieve the optimal solution both operationally and environmentally. It is not about the general trend of increasing numbers of flights from the UK's airports. The changes to the arrival and departure routes will not, in themselves, generate additional air traffic. Conversely, it is anticipated that the net effect of these proposals will be a reduction in overall noise nuisance on the ground regardless of the number of aircraft utilising Glasgow Airport.
Who will review the consultation feedback? Will you alter the routes if people complain?
The feedback from the consultation will be reviewed by the Glasgow team to determine the level of support or objection to each of the new procedures. All feedback will be included, in summary format, in a Consultation Report for feedback to consultees at the end of the 13- week period. Should there be something fundamentally wrong with our conceived designs, as remarked upon during the consultation phase, we will reconsider our proposals accordingly. Any objections received will be given due consideration and will be analysed by our technical and environmental teams.
How will a final decision be made?
Airspace Change Proposals follow a series of prescriptive steps outlined by the CAA. Following a full review of the consultation and its process, a comprehensive formal proposal document will be submitted to the CAA. The proposal will be reviewed by the CAA's Safety and Airspace Regulation Group (SARG) which is legally obligated to ensure that airspace changes are undertaken fairly, properly and with demonstrable high levels of engagement and consultation. SARG will make a decision on whether to approve the proposal and may add conditions as appropriate.
How long does the process take?
Following the 13-week consultation, the process normally takes an additional 10-months or so to conclude following which the new procedures will be implemented. The reason for this time period
allows for decision process, as mentioned above, to complete after which the procedures would be officially promulgated to the international aviation community.
If successful, when would the changes be made?
If successful, and there are no significant amendments to the proposals required, we would plan to implement the changes in Spring 2019.
I have a view on this, how can I make my opinion heard?
The consultation will run for a period of 13 weeks, ending on (13 April 2018). Please click on the links on our website to download each part of the consultation document. If individuals do have a comment to make then they should, in the first instance, discuss it with the consultee organisation which represents their interests – as listed in the Appendices section.
Part 1 of the main Consultation Document details how to respond to the consultation via email or letter. Responses related to the consultation sent via Facebook, Twitter or any other social networking sites will not be considered, nor will messages left on the Glasgow Airport Noise Complaint phone line. Any further details relating to the consultation will be published on our website, so please check for updates.
Submit a response to the consultation 
Will you respond to my feedback?
We will not individually respond to feedback unless you have specifically asked a clarifying question. We will, however, produce a report at the end of the consultation to show what feedback has been received and how this has been considered in the decision-making process.
Please note that this consultation is not about noise complaints. If you would like to make a noise complaint about current operations, please follow our noise complaints process.
How do I know that you have considered my response and that of others? I want to be able to see all the responses to the consultation?
The airspace change process is designed to be a transparent one and we take our responsibilities
very seriously; we will review all responses and will ensure that relevant points are included in the analysis of responses. As noted above, we will publish a Consultation Report on completion of the Consultation. The consultation responses, analysis and subsequent design process will all be made visible as part of the submission process. The CAA will only approve an airspace change if they have evidence to show that we have followed the correct processes. A post- consultation (feedback) report providing analysis of the issues raised and numbers of consultation responses will be published on our website.
How can I make a complaint about noise I am currently experiencing?
Complaints regarding aircraft noise can be made by phone – our free noise complaints line is available 24/7. You will be asked to leave your message which we guarantee will be responded to within three working days. The same is the case for email. 
All noise complaints are registered and investigated. To allow us to fully investigate your complaint, please include your name, address including postcode, contact details and specific details of your complaint, with dates and times of the disturbance. Names and addresses will never be made public. 
How do I respond to the consultation?
Details of how you can respond to this consultation can be found in Part 1 of the Consultation Document. Social Media is not included in this list as responses via these means will not be considered. Responses to our consultation can be made by:
Email to airspace@glasgowairport.com
Online form to submit a response
By post:
Airspace Consultation, Glasgow Airport, Limited, Erskine Court, St Andrews Drive, Paisley, PA3 2SW

Should you wish to respond to our separate Noise Action Plan consultation, responses can be made as follows:
Email to napconsultation@glasgowairport.com

Online Form – glasgowairport.com/community/ noise

By post:
Noise Action Plan Consultation, Glasgow Airport, Erskine Court, St Andrew's Drive Paisley PA3 2SW
How can you consult using cap725 now that cap1616 has been released?
The work associated with conducting this consultation commenced in January 2016. A lot has changed since then and a great deal of effort has been expended
to get us to a position of being ready to launch this consultation. Whilst we have been busy developing our proposals, the Department for Transport (DfT) and the Civil Aviation Authority (CAA) have been consulting on UK Airspace Strategy and how airspace change, in general, should be conducted. The proposed and significant changes to the Airspace Change process were laid out in a consultation document (CAP1520) and at the time of writing it was understood that changes would be implemented in January 2018.

We were however not able to wait until this new process (now released as CAP1616) emerged from its own consultation and was ratified. It was not confirmed what the requirements would be and exactly when they would be in force. As a result, we have agreed with the CAA that we will apply the principles and the spirit of the emerging process as described in the CAA and DfT consultations whilst being judged against the existing process as detailed in CAP725.