Airspace Consultation document
Our consultation document explains, as simply as possible, how each new route may change and provides a comparison of where aircraft fly today against where they will fly under the proposed new procedures. 
We are seeking to gather as much feedback as possible to help ensure our stakeholders' views are given due consideration. 
This is your opportunity to feedback observations and comments about the proposed changes and we would be very grateful if you could take the time to share your views.
Airspace Consultation document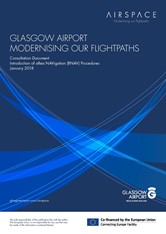 Download Airspace Consultation document
Download Annex A: Runway 05 Concept of Operations
Download Annex B: Runway 23 Concept of Operations


Main Consultation Document 
Page 63, Table 8, row 2 has been removed as it was an erroneous formatting error.  The content of the table remains accurate and the removal of this row makes the content more easily understood.
Annex B Runway 23 Concept of Operations 
Page 15, B.4.4, there was a an error in the text referring to 'the earlier left turn' in relation to SIDs DEWAR & ERRIC.

 

It has been corrected to state 'the earlier right turn'.